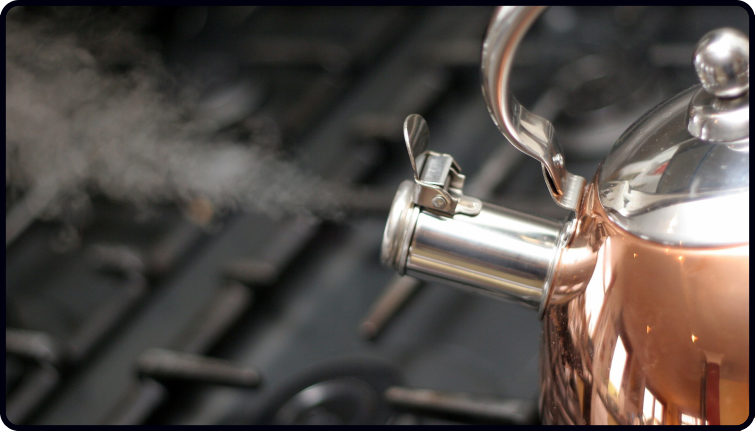 Here is another Friday 10-second tip for you to enjoy…
It's all about finding more time to practise guitar throughout the day.
I half-jokingly call this practice tip…
"Kettle Sessions"
I don't know about you, but I always find life to be really busy.
Sometimes it can be hard to fit practice time in, and sometimes your motivation to practise might not be as high as you would like it to be.
This goes for if you've got a busy work and family life or if you're retired and the kids have "fled the nest" so to speak. (In fact, over the years, many of my retired students would tell me they are busier than ever since retiring).
Anyway, here's a tip that can help regardless of your life situation.
I call these "kettle sessions".
I'm British, and over here drinking tea is a big part of our lives.
I tend to drink about 4-5 cups per day.
So, what I do most times I'm waiting for the kettle to boil, is pick up my guitar and jam the most important thing I'm working on at that time.
For instance, the other week, I was getting ready to film the recent "When the Saints Go Marching In" tutorial.
Every time the kettle would boil, I'd quickly pick up the guitar, make sure it's in tune (never forget that), and play through the piece.
This would give me multiple super quick mini-sessions throughout the day (in addition to a proper practice session) where I could play the song.
Over the space of a week, this made a big difference for me in remembering the piece and perfecting it.
A lot of people prefer to have one practice session per day…
…But research shows that our ability to remember and recall things can quickly drop at about the 24-hour point.
So, these mini-sessions keep the brain and the ol' grey matter "topped up" so to speak, and this can make your proper practice sessions even better.
It's such a simple tip, but instead of me twiddling my thumbs or checking my phone while the kettle boils and the tea brews, I get this bonus practice in.
…And best of all, it doesn't eat into my day one bit.
So, if you drink tea, coffee, or any other delicious hot drink, try it.
Of course, the principle behind this little tip (even if you hate tea) is that you can always find little moments throughout the day to practise here and there.
…And these little mini 2 or 3-minute sessions can be a nice way of breaking the day up with some guitar practice.
I hope you found that useful, and you have a great Friday!
To learn all about the "nitty gritty" of playing guitar and get lots of practical lessons, check this out:
Guitar Domination Super eBook Bundle
Cheers!
Dan Thorpe
Guitar Domination 
P.S. I'm off to find some biscuits to dunk in my tea!
P.P.S. This post was originally taken from Dan Thorpe's private email list. To get blog posts like this sent to you which are full of great tips to make fingerpicking, strumming, and learning guitar more enjoyable (especially if you are over 40) join Dan's list. It's 100% free, HERE.