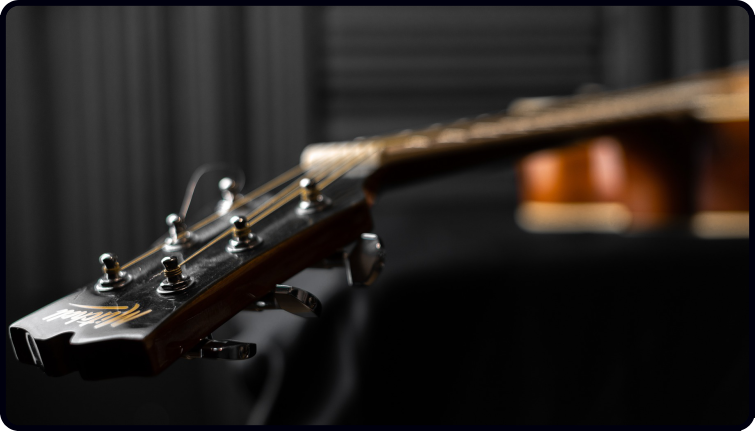 Here's an interesting comment I got from a member of the Fingerstyle 101 Facebook group last week.
It was in reply to me asking the question:
"What are you insecure about when it comes to your playing?"
This is what this member said:
"I'm definitely insecure about my playing. I don't want anyone to hear me play, even my wife, because I can't seem to get through a song without making a lot of mistakes (though, admittedly, I usually try to play songs that are too hard for me). I know I've improved a fair amount in the last couple years, but I feel like I should be better by this point, particularly with fingerstyle. Playing the same songs over and over isn't working."
It takes guts to say this in public, so big kudos to him for admitting this.
When I started out, there's no way I'd ever have said this out loud to anyone, and guess what, that held me back.
Asking for help can be one of the most important things you do.
And the reason why he's struggling?
It's the same reason why most people struggle with the guitar.
It's because he's been tackling songs that are too hard for him.
In fact, most songs people teach on the guitar are too challenging for beginners (even for those who've played for a while).
And it's like Einstein said: "The definition of insanity is doing the same things over and over again but expecting different results".
This chap now thankfully realises this.
One thing that would help him is to learn a simple song on the guitar.
If you're struggling, you may want to do the same.
Remember, simple songs played well are infinitely better and more enjoyable than complex songs played badly.
Anyway, speaking of a simple song, if you've been struggling, you may want to check out the new Dan Thorpe Acoustic Academy lessons.
This is what's included in the video lessons (which come with full TAB and notation):
How to play "When the Saints Go Marching In" using my No Chord Fingerstyle method – perfect if you're a beginner, you're struggling with songs, or you want to play a fun and famous tune in as little as a few days.
How to break down this song into 6 simple "bite-size" stages, how to play the pure "melody" version ANY guitarist can learn in a day, and even how to play a Travis picking accompaniment to the song.
The secrets to "Hybrid" picking (ideal if you prefer to use a pick, not your fingers) and a crazy but optional 5-note legato lick to add some magic to the song.
Why the simple yet polar opposite techniques of the great James Taylor and Django Reinhardt can be applied by any guitarist to make your playing sound almost instantly more musical.
The simple secrets to playing "Vibrato" that you can learn in just minutes are all taught in my own admittedly "off the wall" yet simple way.
How to use this specific rock and blues technique to add spice to any melody even if they are pop, classical, or folk licks.
Do chord changes take 100s of hours of practice to master? Wrong! Most people practice chord changes with bad technique and then they form bad habits which are hard to break, but you can do this instead…
Discover the 'Fake Pivot' technique to ensure no chord change trips you up ever again, meaning all your chord-based songs can sound more musical right away.
Plus, get key reminders on using the lessons throughout the month (members find this incredibly useful), get the exclusive print version of my theory book (worth $47) posted out to you for free, and get a whole host of member benefits.
The membership is all based around teaching you how to make great progress on the guitar while going at your own pace AND while avoiding overwhelm.
This is the last message I'll send on this.
Next month there will be changes coming to the Academy for new members, so now is a good time to join.
You can find out more about the membership at the link below:
The Dan Thorpe Acoustic Academy
Enrolment closes in just a few hours.
Have a great day of practice!
Dan Thorpe
Guitar Domination
P.S. This post was originally taken from Dan Thorpe's private email list. To get blog posts like this sent to you which are full of great tips to make fingerpicking, strumming, and learning guitar more enjoyable (especially if you are over 40) join Dan's list. It's 100% free, HERE.