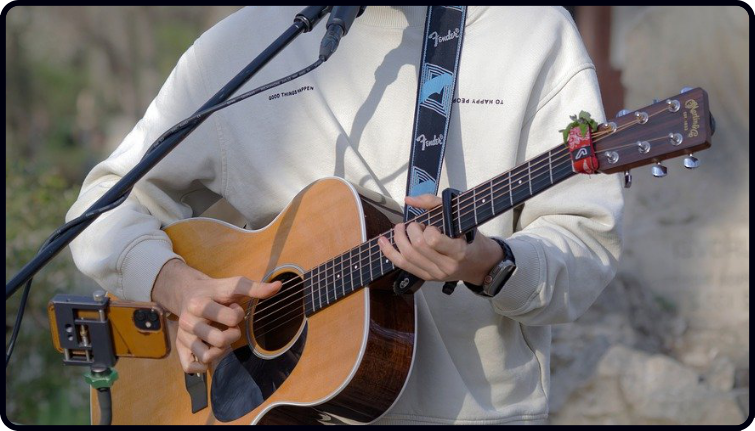 For me, one of the most memorable scenes from any movie over the last few decades is from Kill Bill.
There's a scene where Uma Thurman gets buried alive in a coffin while under six feet of dirt.
She has to find a way to escape.
…And she does this by using her countless hours of relentless training.
Well, that scene reminds me of something a lot of guitarists do.
…Especially when they play songs.
When I hear people play arrangements of songs, they usually complicate it too much.
So much so that there is a key ingredient that is missing from the tune.
Well, the ingredient is there, but it has usually been buried alive, like Uma.
…And it's bursting to come out.
This is the topic of today's episode of the Acoustic Asylum podcast.
It's only a short podcast but there's plenty of nuggets of advice inside, including how I myself had this issue not long back.
Plus, there's more…
Including some great advice from the wonderful guitarist, George Benson, taken from an old show called Guitar Star.
…And I even play some snippets of a really fun arrangement of a Johnny Cash and Elvis Presley tune.
I'm sure you'll find it entertaining and insightful.
You can check it out below if you have an iPhone device.
If you don't have an iPhone, you can listen to it in a variety of other ways HERE.
Dan Thorpe
Guitar Domination
P.S. Don't forget, you can get my guide 13 Ways to Escape the Acoustic Asylum for free.
To get it, just leave the podcast a review, send us a quick email, and we will send the PDF over right away.
The guide is lots of fun and contains some really cool pieces of music for you to learn to play and plenty of powerful tips.
P.P.S. This post was originally taken from Dan Thorpe's private email list. To get blog posts like this sent to you which are full of great tips to make fingerpicking, strumming, and learning guitar more enjoyable (especially if you are over 40) join Dan's list. It's 100% free, HERE.