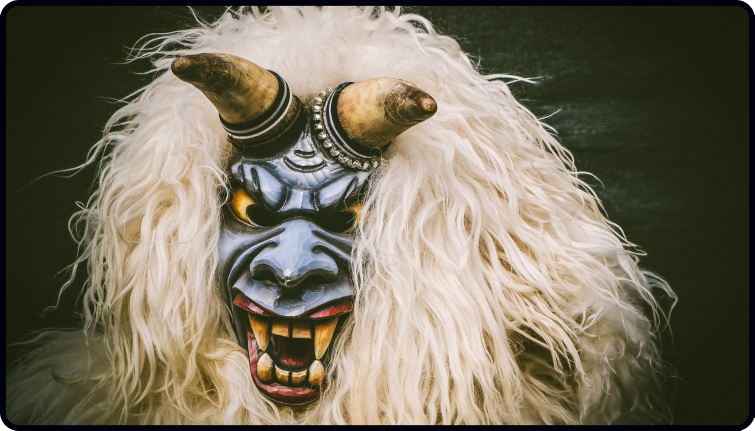 Last Christmas, I watched a film called Krampus.
The movie was so-so, but it got me interested in the story of Krampus.
To be honest, "Krampus" was not something I have ever been really familiar with.
In case you don't know, Krampus is like an evil version of Santa Claus that usually has horns, fangs, and chains that rattle.
His job is to punish the naughty children.
Well, after googling Krampus to find out more, it appears he's also out to wreak havoc on naughty guitarists the world over this Christmas.
For instance, he's keen on punishing guitarists who:
Don't set any clear guitar goals
Try to learn too many songs at once and don't make progress with any of them because of it
Use brute force instead of working on good basic technique
Beat themselves up mentally when making mistakes instead of taking a deep breath and being kind to themselves
Pick up the guitar and randomly practise without 1 or 2 specific things to try to improve
Don't relax and breathe when playing and ensure their whole bodies are tension free
Make the same mistakes over and over but don't isolate what is causing the mistakes and work on fixing them
Know they are desperate to learn and improve on the guitar but don't put in at least 15 solid minutes of practice each day
Rush everything they play and do not slow down when practising
Leave it multiple days between practising guitar
Forget the importance of learning 5 songs as a beginner and instead "float" around learning bits and pieces of things
And finally, those who forget that…
Guitar playing should be for fun, and while we need to practise with focus and discipline…
We should play with a big smile on our faces as much as we possibly can.
Even mean ol' Krampus knows the importance of all this – especially the last one.
In fact, the last I heard, Krampus was dragging a rather cranky Keith Richards through the snow by his chains because he looked kind of grumpy at a Rolling Stones gig (that's just Keef's look, dear Krampus!)
Remember, we are human and we all make some of the above errors sometimes, but it's key to minimise them as much as you can.
Anyway, I hope you enjoyed this playful email and it gave you a few things to think about…
As well as reminders of what to do and what not to do when practising…
…But most of all, I hope it was a fun and silly reminder to keep enjoying your playing, and make every second a blast.
If you want to make 2023 the best yet for your playing, you may want to check out the Dan Thorpe Acoustic Academy.
January's upcoming lessons are going to be very powerful if you've ever broken these rules before.
The key aim is that the lessons will help you make some big noticeable progress by the end of January.
…And what a great start to 2023 that will be!
Find out more about the Dan Thorpe Acoustic Academy
Dan Thorpe
Guitar Domination
P.S. I'm locking the doors and hiding behind my Les Paul, as I just realised I was guilty of one of the above mistakes when learning an up-tempo version of "Run Rudolph Run" the other day.
Oh no, if you don't hear from me tomorrow, Krampus may have got me!
P.P.S. This post was originally taken from Dan Thorpe's private email list. To get blog posts like this sent to you which are full of great tips to make fingerpicking, strumming, and learning guitar more enjoyable (especially if you are over 40) join Dan's list. It's 100% free, HERE.