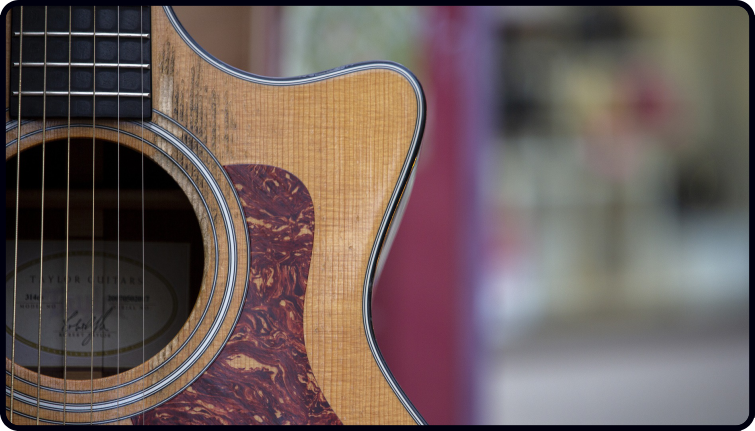 Welcome to a new Monday post with 3 random thoughts on all things guitar, music, and life, including mastering guitar, my hellhole job, and more…
#1 – My hellhole job
Years ago, when I was about to start teaching guitar full time, I was working in a hellhole of a temp job.
I drove past this place the other day and it reminded me just how lucky I am these days.
The job itself was a real grind with supervisors who would bully staff.
They were horrible, and this one chap made Michael Myers from the Halloween films seem like Little Miss Muffet!
I was hot-headed and would stand up to these supervisors with their Napoleon complexes. This, of course, led to some sticky situations to say the least, but I was glad I had this experience.
Looking back at those frustrating six months makes me feel even more blessed for being able to do what I do now.
If that job was a comfortable one with a good career, would I have been as determined as I was to make a successful teaching studio?
Who knows?
Sometimes it is good to look back and…
Realise the hard yards and tough days make us who we are now, and to see just how far we have come.
This goes for everything in life, and of course with guitar.
Worth keeping that in mind when the going gets tough.
Just look back and see how far you have come from the days when you could barely hold it the right way up!
#2 – Mastering Guitar?
Talking about that job, I remember the time one chap found out I taught guitar and said:
"Wow, Dan, you must have truly mastered the guitar to teach it"?
I smiled and said, "No one ever truly masters it. I'm still learning new stuff on it all the time".
He looked a bit puzzled.
Clearly, he had never tried learning guitar or he would know!
The classical maestro, Segovia, said it best when someone asked him how long it took him to learn the guitar.
He said, "Two lifetimes would not be enough."
You can listen to quotes from many great players, and they will tell you the same thing about mastering guitar.
We never stop learning.
Unlike what many "guggles" think (my Harry Potter inspired definition for non-musical people)…
There is no finish line where one day you are given a mortarboard and a degree and told you are a master of guitar.
We are lucky in this sense that the guitar will always be able to bring us new and exciting challenges.
The key is to enjoy each second and keep that excitement to play every day.
#3 – The ideal student
I got an out of the blue text from an old student of mine the other day.
His name is Stuart, and I taught him for two years.
I no longer teach him as he moved away, but each lesson with him was fun, interesting, and challenging.
He was a fantastic student.
After teaching well over 100 students in person over the years, (one to one, and in groups, and in schools), I have seen a lot of patterns that make the difference.
Desire, persistence, patience, open-mindedness, and curiosity are just some of these.
Stuart had the above.
He would get up early in the morning before work for a focused 20-minute practice session when he was at his freshest.
He was open-minded and willing to push himself and was never afraid to try out new ideas.
You might think Stuart was a youngster or super confident.
In fact, he had never played an instrument before and was in his 40s when he began, and it was not always plain sailing.
Yet, his progress was fantastic, and he even got pretty good at a couple of barre chord shapes after about a year of playing.
It was all about these key traits of desire, excitement, drive, and open mindedness.
Definitely attributes worth developing and keeping hold of for all guitarists.
If you want to learn a wide variety of stuff, the kind I taught Stuart and the others week in, week out, then check out my book bundle.
It contains 7 eBooks, all of which will help to fix the "seven stumbling blocks" of guitar playing.
You can find out more about it below…
Guitar Domination Super eBook Bundle
I hope you enjoyed this and have a great Monday!
Dan Thorpe
Guitar Domination
P.S. This post was originally taken from Dan Thorpe's private email list. To get blog posts like this sent to you which are full of great tips to make fingerpicking, strumming, and learning guitar more enjoyable (especially if you are over 40) join Dan's list. It's 100% free, HERE.