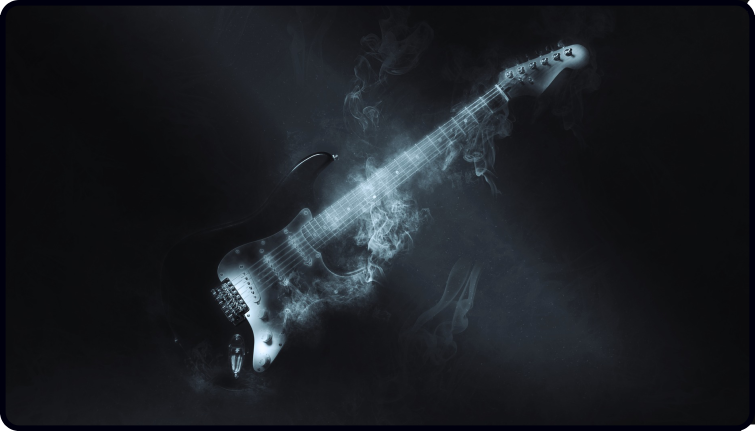 Welcome to a new Monday email with 3 random thoughts on all things guitar, music, and life, including remembering Meat Loaf, the perfect video course, and more. Here we go…
#1 – A comical day
The other day I had a comically bad day.
I was making an omelette. I stirred the eggs in a bowl, then opened the cupboard above me to get the black pepper…
The pepper shaker fell out and landed on the edge of the bowl.
The bowl flipped, and the eggs went everywhere.
I thought I'd be clever and use a piece of kitchen towel to sweep the egg into a dustpan, and then I could put it straight into the bin.
…But little did I know the dustpan had a crack in it, so the eggs went all over the floor!
It was all very slapstick, and I had to laugh.
To make matters worse, the same day, I bashed my finger and cracked a nail on the index finger of my fretting hand.
This made playing guitar hard, and I couldn't even fret a note with this finger.
I could only use my middle, ring, and pinkie as I was preparing and practising a new song arrangement for a new Dan Thorpe Acoustic Academy lesson.
This was a pain.
It turned out it was good fun though, practising the song while not using the index.
The song is a pretty easy one to play normally, but without the index, it became a challenge and a fun one at that.
Playing it in an alternate way led me to make a new discovery with it too and helped me make the arrangement even more exciting. (I'll share more on this during the week).
I was pleased how I turned something comically bad into something positive and made a game of it.
It is not always easy when things go wrong, but there is always some sort of good practice we can do when injured…
…And what started out as a disaster, and like something from a Laurel and Hardy film, turned out pretty good in the end.
#2 – Meat Loaf
It was sad to hear the other day about the death of Meat Loaf.
(Real name Michael Lee Aday. Yeah, I googled that, but I'm a geek and love to know people's real names).
He had some great tunes and was definitely larger than life.
About 6 years ago, when I finally got around to getting a car, I remember hearing "Bat Out of Hell" on the radio.
I had to crank that baby up and open up the windows.
It was a pretty cool moment.
I also remember when Archie was a baby, I took him for a walk around our town.
There was a music festival going on with a Meat Loaf tribute act.
It was nice watching Archie bob up and down in his pushchair and might just be the first time I saw the music in him!
Anyway, what stands out about Meat Loaf are his songs standing the test of time, his larger-than-life personality, his unique rock 'n' roll/ballad/theatre style, and the sheer wild passion he showed.
If only all musicians had as much passion for music as Meat Loaf did, the world would be a more fun place for sure.
Apparently, everyone has a Meat Loaf story, according to the guy on the radio. What's yours?
#3 – The perfect course
I have a few projects lined up this year.
New books, new ideas, and some other exciting things.
I'm also finalising buying a house in the next few weeks and ensuring I take time this year to really enjoy my hobbies (bouldering is my latest one) and get back to doing some surfing more often.
Anyway, as well as all this, I want to create what I see as the perfect video guitar course for you all.
I already have some inexpensive beginner books out (Fingerstyle 101 and The Ultimate Guide to Strumming) but…
I also want to release an inexpensive video course that is super powerful and covers the important basics that most people miss.
I have lots of ideas, and I don't want it to be a long course. It will be more of a beginner-based course, but I want your feedback.
So, in your opinion, what would be the perfect guitar course for you? …And what is your biggest guitar playing frustration?
A lot of you have a lot of experience with YouTube, and buying lessons, so I would love your thoughts. I guess we could sum it up by asking, what is the world of guitar tuition lacking?
Be as detailed as you like, and I'll read all your replies.
The more of you who reply, the better this course will be.
Enjoy your Monday!
Dan Thorpe
Guitar Domination
P.S. Speaking of video courses, if you are curious as to what my most important course is, I would say hands down the In Focus course as it's the plan I've taught students for years in my studio and private lessons. All members of the Dan Thorpe Acoustic Academy get access to this course as part of the membership.
You can find out more about both the In Focus course and the DTAA below…
The Dan Thorpe Acoustic Academy
Also, there are some more very cool lessons coming on the 1st of February which I'll yap on a little bit about over the next few days. I'm very excited to release these.
P.P.S. This post was originally taken from Dan Thorpe's private email list. To get blog posts like this sent to you which are full of great tips to make fingerpicking, strumming, and learning guitar more enjoyable (especially if you are over 40) join Dan's list. It's 100% free, HERE.