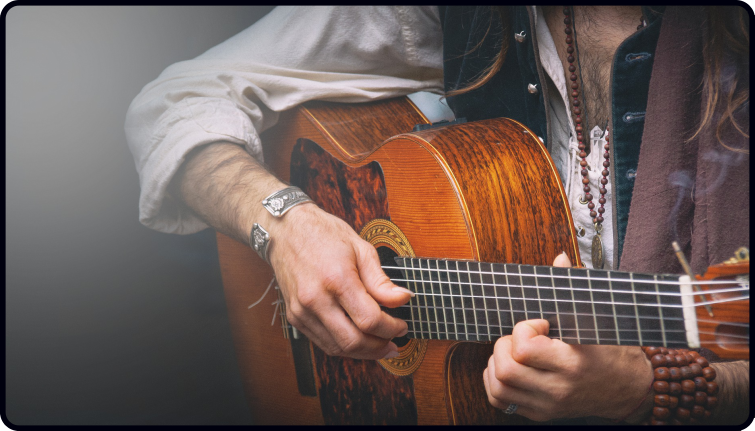 Welcome to a new Monday post with 3 random thoughts on all things guitar, music, and life, including music dynamics, learning notes on the fretboard, and more. Here we go…
#1 – The music dynamics of the guitar
I was watching a Lindsey Buckingham solo performance on YouTube the other day.
He was playing "Big Love", the Fleetwood Mac number, on acoustic and it was ace.
His playing was not only wonderful to listen to, technically brilliant, but it was also full of passion.
One of the ways he got this passion was by using the full range of music dynamics on the guitar.
He didn't just play everything at the same "flat" volume most people do.
He started it solidly with a normal sort of volume and then at the end let it go loud and boy did it sound good.
Using the loud and soft dynamic range of the guitar is something most guitarists never do, but it can easily add so much more life and soul to your music and…
All without doing anything that different apart from essentially just hitting the strings louder or softer.
#2 – The feedback is appreciated!
Last week I asked you for your thoughts on what appeals most to you for possible future books and courses.
In a few weeks' time, I will be releasing something that has been in the pipeline for a while and these new ideas are great for later on in the year so thank you to everyone who took the time to email me.
There were a lot of responses to get through and quite a few of you sent some detailed thoughts too with some great ideas.
The fingerpicking and strumming songbook idea came out on top.
This will be an exciting project and I have already started brainstorming some ideas from the many songs I have taught over the years.
That was not the only thing you all wanted though. The other ideas appealed to many of you too, with the Travis picking and blues starter courses being very popular ideas too.
All these will take some time to create but they will be fun to create and fun for you all too by the sound of it!
Thanks again.
#3 – The major issue with learning the notes on the guitar
When it comes to learning the notes on the fretboard, most guitarists struggle with one thing in particular…
They try to learn too many notes in a short space of time and… Then they forget most of what they learnt.
If you have ever tried to learn the notes on the fretboard, you may have experienced this.
So many guitarists have.
I did too.
It's like binging on all the notes as if they were a giant bag of chocolate chip cookies and then never wanting to see the sight of them again!
That is why I don't teach beginners more than a couple of notes on the fretboard at a time.
Instead, I teach them in a bitesize way…
Each week refreshing and solidifying what we went over the previous week, and then adding just a few more notes.
It is more of a nibble of a delicious cookie than the whole bag.
This works much better and after about 6-7 weeks students get a good grounding of the notes on the fretboard which they keep forever (as long as they refresh things regularly).
This month I have put together a 7-day plan for getting started with learning the notes on the fretboard.
It is inside the Dan Thorpe Acoustic Academy and the lesson will be out on the 1st of July along with the new lessons.
To find out more about the Dan Thorpe Acoustic Academy, and exactly what is inside, check it out at the link below:
The Dan Thorpe Acoustic Academy
Enjoy your Monday!
Dan Thorpe
Guitar Domination
P.S. This post was originally taken from Dan Thorpe's private email list. To get blog posts like this sent to you which are full of great tips to make fingerpicking, strumming, and learning guitar more enjoyable (especially if you are over 40) join Dan's list. It's 100% free, HERE.