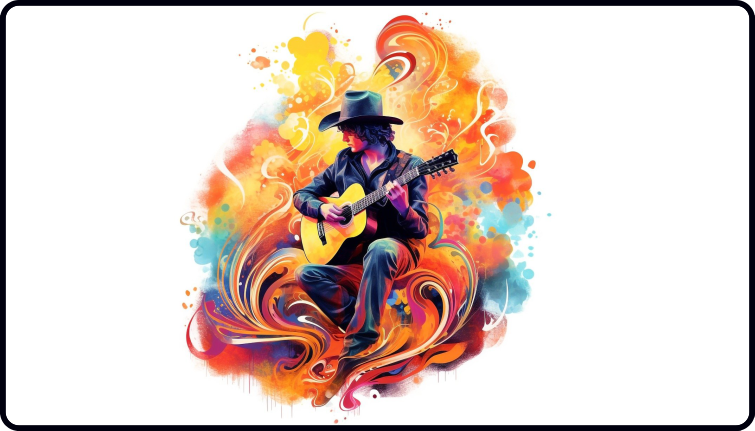 Earlier in the week, I talked about how it's been almost ten years since I quit my old job to become a full-time guitar tutor.
And yesterday, I mentioned a big announcement coming up today.
Well, here it is – today is the day.
To celebrate the 10-year anniversary of this milestone in my life, I've created a brand-new course.
It's a fingerstyle course on how to play three classic songs without needing chords.
It's called the No Chord Fingerstyle Mini Masterclass.
(I was going to create a jazzier name but I like No Chord Fingerstyle as this name explains exactly what it's about).
The seeds of this course were planted way back, many years before I became a full-time teacher.
Back then, I was getting pretty good at guitar and was spending dozens of hours trying to learn how to play famous fingerstyle songs.
I'd hop on YouTube and search for some fingerstyle songs.
These songs were impressive but I would get frustrated because I could not make heads or tails of the tune in 20 minutes.
The tutor would make it look easy.
…And I'd often get off to a good start, but they would quickly lose me.
Little did I realise that many of these tutors had spent months or even years fine-tuning these arrangements!
Looking back, it was natural, but a bit silly of me to get so frustrated.
I remember wishing someone would create some beginner-friendly versions of these songs.
That would have saved me tonnes of frustration (I'm glad I was pretty young at the time and didn't have any grey hairs then – otherwise by the end of my practice session I'd have had a tonne more).
Over the years, I taught many cool arrangements myself but often look back at those feelings…
And I've often focused on making newer arrangements simpler and simpler to learn.
…Stripping back all the fluff making them easy to play while making them sound wonderful.
I don't see anyone else doing this.
…And that's why I created the No Chord Fingerstyle Method, which is a different way of playing guitar.
This is what I'm excited to release today.
In short, there are two key rules to this method:
1 – You play the melody which is essential (make it shine, so each note sparkles – vibrato is a great thing to use here)
2 – You fill out the sound by adding in the necessary bass notes (I do this by using open strings, making awkward stretches a thing of the past)
My students love this style of playing and now I have a brand-new course that goes deeper into this one specific method.
The course features simple arrangements of three classic songs that have been performed countless times.
It's my new Mini Masterclass No Chord Fingerstyle course.
In this course, you will learn 3 stunning arrangements of the classic tunes "Amazing Grace", "Streets of Laredo", and "America the Beautiful".
All three songs are timeless classics that have been recorded by the likes of Chet Atkins, Johnny Cash, Carlos Santana, Aretha Franklin, Elvis Presley, Willie Nelson, LeAnn Rimes, Beyonce, Jimi Hendrix, Tommy Emmanuel, and 1000s more famous artists and legendary guitarists.
If you ever wanted to play simple songs that sound rich, vibrant, beautiful, and melodic, all without painstaking practice, this is the course for you.
The course is not for sale on its own yet.
But you can get it for free today if you join the Dan Thorpe Acoustic Academy.
…which is now open for enrolment.
Eventually, I may sell the course separately but as the Academy is the best place I can teach you to play guitar, I want to give it to you for free for trying out the Academy.
Just watch some of the short testimonial videos from other members on the sales page to see what I mean about it being my best place to teach you.
So, head below if you want to get started with this exciting new No Chord Fingerstyle course today.
The Dan Thorpe Acoustic Academy
The course is not mentioned on the sales page, but as soon as you join the Academy, you will get instant access to this new No Chord Fingerstyle course.
Dan Thorpe
Guitar Domination
P.S. If you're already a DTAA member and you want this course added to your account, you will of course get it for free too – just let us know. The one thing I'm keen on doing is NOT overwhelming you with content, but if you want it, it's of course yours for free as a big thanks for being a member.
P.P.S. This post was originally taken from Dan Thorpe's private email list. To get blog posts like this sent to you which are full of great tips to make fingerpicking, strumming, and learning guitar more enjoyable (especially if you are over 40) join Dan's list. It's 100% free, HERE.