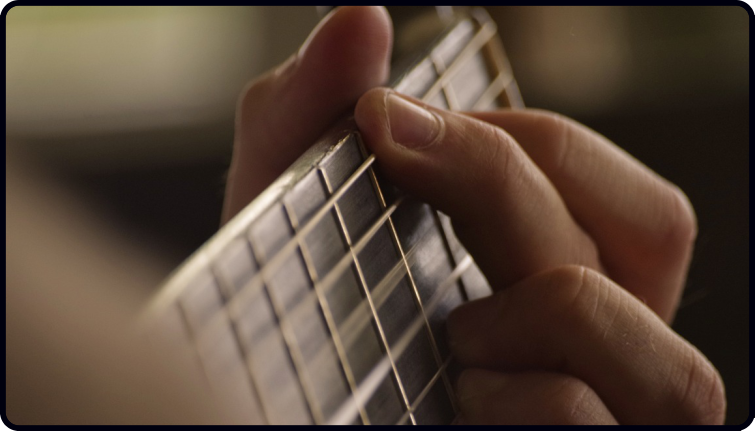 Here is another Friday 10-second tip for you to enjoy.
This can help if you struggle with a lack of dexterity.
…And especially if you struggle to "reach" higher notes on the fretboard no matter how hard you try.
It's all about the:
The 'pinkie first' method
Not being able to reach notes up the fretboard can be very frustrating.
…But did you know sometimes a lack of dexterity is NOT the issue?
In fact, it's often the way you position your hand on the fretboard that can make a big difference.
…Especially when playing scales and melodies.
A common mistake…
The mistake many people make is that they place their index finger on the fretboard first.
Doing this naturally angles your hand, so it's pointing towards your face (see the image below or click HERE if you can't see the image).
Now, in that image, notice how far the pinkie has to 'reach' to get to the fretboard.
A useful solution…
On the flip side, if you put the pinkie on the fretboard first…
This changes the angle of the hand in relation to the fretboard so the hand is facing the ceiling more. (Again, see the image below or click HERE if you can't see images).
Now that might not seem like a lot, but this little shift can make a difference.
That's because your hand is in a good position, the pinkie is in a good position and all your other fingers are ready to play.
This is one of those subtle little tips I urge you to try.
Is it the sort of thing that will get you playing like Hendrix overnight?
Of course not, but it's little technical shifts like this that can allow you to play things you didn't think you could play.
…And do so without having to spend months trying to improve your dexterity (although improving dexterity is, of course, a good thing).
For example, take my new Mini Masterclass course I released yesterday.
All of the arrangements are technically simple to play.
Even the hardest section of all three of the arrangements (which is bar 7 of "America the Beautiful") becomes much easier to play when keeping tips like this in mind.
…And in case you missed yesterday's email, you can get this brand-new course for free right now.
How?
Just by trying out the Dan Thorpe Acoustic Academy.
I could sell the Mini Masterclass course as one course for $47-67 or so (and I may end up doing so in the future).
…But you can try out the Academy today for just $37 and get this course for free, forever as a free bonus.
Plus, you'll get more very cool free gifts just for joining (one of which gets posted to your door).
The course is perfect for beginners but it's also ideal for any intermediate players wanting to learn some fun tunes quickly.
I love playing these arrangements myself and have no doubt you will too – no matter where you are with your playing right now.
You can find out more about the academy below:
The Dan Thorpe Acoustic Academy
Dan Thorpe
Guitar Domination
P.S. Here are more details on the course. The brand-new Mini Masterclass course is my No Chord Fingerstyle course.
In this course, you will learn 3 stunning arrangements of the classic tunes of "Amazing Grace", "Streets of Laredo", and "America the Beautiful".
All three songs are timeless classics that have been recorded by the likes of Chet Atkins, Johnny Cash, Carlos Santana, Aretha Franklin, Elvis Presley, Willie Nelson, LeAnn Rimes, Beyonce, Jimi Hendrix, Tommy Emmanuel, and 100s more famous artists and legendary guitarists.
If you ever wanted to play simple songs that sound rich, vibrant, beautiful, and melodic, all without painstaking practice, this is the course for you.
The course is not mentioned on the sales page below, but for a limited time, as soon as you join the Academy, you will get instant access to this course.
…So, head below if you want to get started with this exciting new course today.
The Dan Thorpe Acoustic Academy
P.P.S. This post was originally taken from Dan Thorpe's private email list. To get blog posts like this sent to you which are full of great tips to make fingerpicking, strumming, and learning guitar more enjoyable (especially if you are over 40) join Dan's list. It's 100% free, HERE.