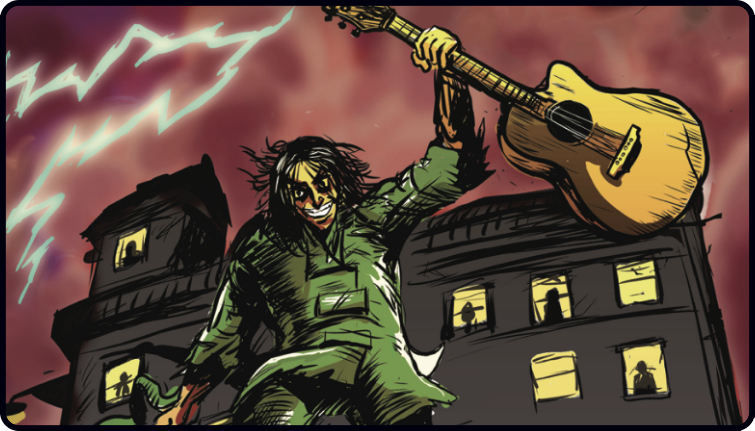 Today, I want to share with you something very exciting.
It's a guide I've created called:
13 Ways to Escape the Acoustic Asylum (And Ensure the Guitar Never Drives You Mad Again).
This is a really fun guide that I wrote to go along with the Acoustic Asylum podcast.
It's a PDF guide and inside I share with you 13 powerful tips that I've discovered in over a decade of teaching guitar full-time, communicating with 1000s of guitarists around the world, and having sold 10,000s of books and courses (that's not a brag, but it's just to show you I've learned a lot).
Inside the guide, you'll discover tips on what to do, what not to do, how to practise better, play your songs so they sound better…
…and I'm teaching you some wonderful, famous songs and original pieces of music to play.
There are plenty of refreshers inside and plenty of new content too, so everyone can enjoy this.
How much does it cost?
Five thousand…
Kidding it is free.
Yep, no cost, as it's my gift to you.
All I'm asking is that you leave the Acoustic Asylum podcast a review on Apple Podcasts.
It took me many hours to create this guide, record the audio, arrange the songs, get the artwork sorted, etc, so I hope you don't mind me asking this.
Apple is pretty much the 'big gun' in the podcast game these days and they use reviews to spread podcasts to more people.
More reviews = more reach of new people.
I know, not everyone has an iPhone, but pretty much everyone has a close family member who does have an iPhone…
So, if you do want the guide, please take a moment to leave it a review (it takes as little as 30 seconds) or ask a family member to leave it a review (and tell them what to say).
To review it, go to the link below on your iPhone, scroll down to the bottom and you should see the option to review it.
The Acoustic Asylum on Apple Podcasts
The podcast has 17 five-star reviews so far in the U.S. which is great.
If you've already left it a review, just email us and we will send you the guide right away.
Anyway, there's some good stuff in today's episode where I share more about it.
Have a listen to the latest episode and/or leave it a review below:
Dan Thorpe
Guitar Domination
P.S. If you don't have an iPhone but want to listen, go HERE.
P.P.S. This post was originally taken from Dan Thorpe's private email list. To get blog posts like this sent to you which are full of great tips to make fingerpicking, strumming, and learning guitar more enjoyable (especially if you are over 40) join Dan's list. It's 100% free, HERE.