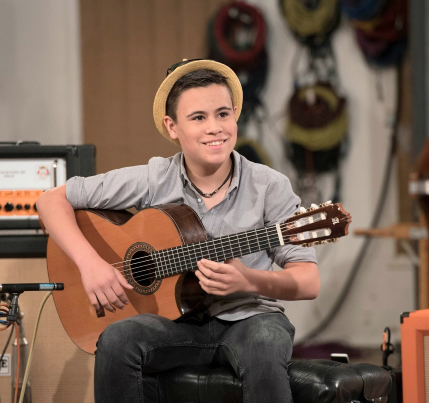 Billy Watman is a wonderful 15 year-old guitarist from London here in the UK. I first discovered him a couple of months ago watching Guitar Star on the Sky Arts channel.
I was instantly wowed by Billy's skill and the obvious amount of passion and dedication that came through in his playing. You could see right away that this chap is going to be a star, and a star I wanted to interview for this month's Q and A.
Even though Billy didn't win the contest which if you don't know is a guitar competition, he was my personal favourite. His fingerstyle arrangements of 'Bohemian Rhapsody', 'Stairway to Heaven' and even Black Sabbath's 'Wicked World' were nothing short of brilliant.
After being mentored by the likes of George Benson (wow!), Miloš Karadaglić, Jon Gomm and being produced by Tony Visconti (David Bowie), Billy's playing got even better.
He might not have won but he will definitely be a guitar star very soon.
Check out his thoughts below.
Bands and inspiration
Your favourite guitarist?
Too many to mention! Rodrigo y Gabriela, Tommy Emmanuel, Miloš Karadaglić, Thomas Zwijsen and The Showhawk Duo are a few of my favourites!
Who's the best band/artist you have seen live?
The Showhawk Duo – check them out, and AC/DC at Wembley Stadium.
What's your favourite album?
Probably Dark Side of the Moon by Pink Floyd.
Favourite song to listen to on a depressing day?
Comfortably Numb
Greatest guitar piece ever recorded?
That's tricky. I love Prince's guitar solo on "While My Guitar Gently Weeps" – does that count as a recording?
Best guitar of all time?
Whichever one I am holding 😉
You as a guitarist
Most difficult thing you've ever learned to play on guitar?
Harp harmonics were really tough to master, but really worth it as they add loads of new possibilities.
Who's your favourite guitarist and/or biggest influence ever?
Probably Sungha Jung I think. Although he plays steel string, and I play nylon it was his videos that made me see the guitar can sing melody and play rhythm at the same time.
What's the first song/riff you ever learned on guitar?
Stairway, isn't it everyone's? 😉 I still play it, but a really cool Rodrigo y Gabriela arrangement with loops.
Why did you choose to play the guitar?
Don't know, just picked it up when I was 6 and kept playing.
What's the first guitar you owned?
A very old and battered ¾ size nylon string guitar from a charity shop (I still have it!)
Self taught or formal lessons?
Both, self taught for the first few years, then had some lessons, and eventually auditioned for the Purcell School of Music in London, where I now study classically.
Any unusual tunings you love to use?
Occasionally, I use DADGAD for percussive pieces. I love Eric Roche's arrangements.
Your music and gear
What was your best ever gig?
Edinburgh Fringe 2016
Favourite effects to use (if any) and why?
Boss Compressor-Sustainer, TC Hall of fame
One piece of gear you couldn't live without?
Bose L1 compact PA, great clean sound for acoustic guitar and LR Baggs venue DI for EQ and feedback control.
Favourite song to play live?
Bohemian Rhapsody (Edgar Cruz arrangement)
The best moment of being a performer so far?
Reaching the final 3 of Guitar Star on Sky Arts TV – I worked with George Benson, Tony Visconti, Milos Karadaglic, Tony Iommi, Jon Gomm and played in some of the best recording studios in the world, including Abbey Road! Fantastic experience.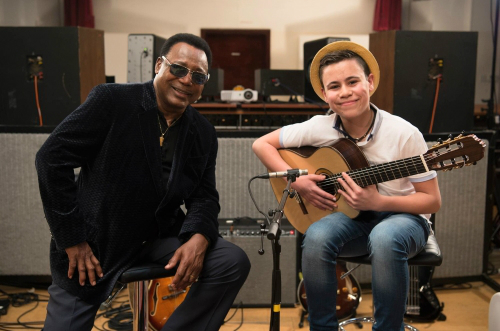 Tips and advice
Top advice for any new bands/artists trying to make it?
Make the music that you enjoy playing, always listen to advice from everywhere – and always think twice before turning down any opportunities, sometimes the bad gigs end up leading to the good ones.
What does a typical day of your practice routine look like?
Between 30 mins and 3 hours – usually in the morning – but no set routine, I don't play scales very often but I play Bohemian Rhapsody most days all the way through as a warm up as it has virtually every change and technique in it!
(That's a great point Billy makes. Choosing a song or two that really works a variety of techniques is wonderful for your playing as you don't need to practice boring exercises but will still be practicing really important stuff while having fun – Dan)
Best advice for beginner guitarists?
Play music you enjoy listening to – that way although it's frustrating sometimes, the result will be more satisfying and you are less likely to give up trying.
General thoughts on learning guitar for our readers
Try all styles, I started as a steel string strummer (aged about 6) and I used to sing. I was always more interested in the complex fingerstyle stuff though, but it was really hard to do at that age.
I think playing the simple stuff in the beginning kept me interested, and eventually I improved, there are no shortcuts – and no magic online websites or video games that will make you a great guitarist. Lots of practice will make you a great guitarist.
Which superhero would make the best guitarist?
With a surname like mine? Has to be Batman!
Fun stuff
Best music festival you have been to?
The Beacon festival – Oxfordshire UK
Band you would most like to tour with?
Rodrigo y Gabriela
Festival you would most like to play at?
Glastonbury – still waiting for that call 😉
Hopefully you all found that Q and A inspiring. Remember, it is not about how old or young you are, it's all about the dedication. Billy is testament to that. Put in the hours of practice, make your practice time fun and you too can be the guitarist you want to be. In the next few weeks I'll be showing you exactly how I get my students to practice for maximum success. It is very simple but has made a big impact on their playing.
To find out more about Billy and to listen to more of his playing, head to billywatman.com or check out his Facebook page.