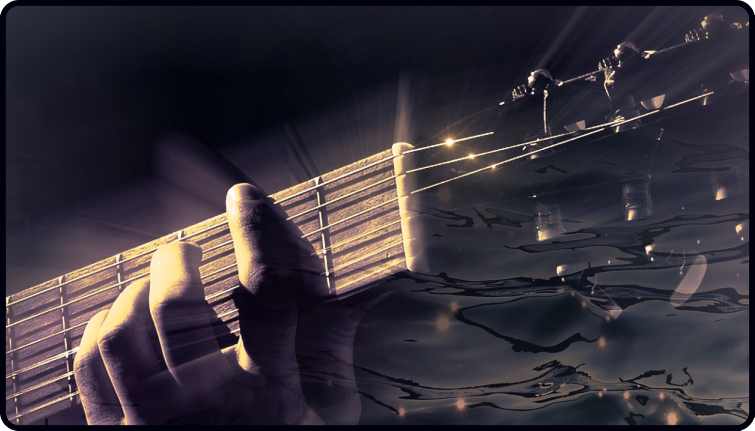 Here is another weekly 10-second tip. It is not the simplest, but it is well worth learning.
It's a way to practise barre chords that I call:
"Reverse" barre chords!
A simple tip to help improve your barre chords is to place the barre finger on last.
Try this…
Place your non-barre fingers on the fretboard one at a time
Ensure each note is clear.
When they are, slowly and gradually add your barre finger to the chord (while not letting these other fingers move).
Most guitarists place the barre finger on first.
This can be a mistake, as it usually means their other fingers get plonked on the fretboard, in any old way, meaning more buzzing no matter how well the barre finger is positioned.
Try the "reverse" method if you have been practising barres and struggling with them.
Obviously teaching barre chords fully is not something that can be done in a 10-second tip, and this is not a miracle cure.
However, it is one of many useful alternative methods to practising barre chords that I rarely see taught elsewhere.
Anyway, I've released a quick two-minute challenge lesson on this today in the Dan Thorpe Acoustic Academy.
As well as getting this lesson, if you join, one of the perks is you can ask me anything about barre chords, and I'll help answer your questions about fixing them.
I'll also be filming a new lesson on barre chords specifically for members – addressing any issues you have.
So, if you want to learn, improve, or fix your barre chords, the academy will help.
Join the Dan Thorpe Acoustic Academy before midnight to get lifetime access to the new lessons
Have fun jamming!
Dan Thorpe
Guitar Domination
P.S. If you join before midnight, you'll also get a new lesson on songwriting and creating melodies, and another on the power of foot tapping when you play, plus my book posted to you as a free gift.
P.P.S. This post was originally taken from Dan Thorpe's private email list. To get blog posts like this sent to you which are full of great tips to make fingerpicking, strumming, and learning guitar more enjoyable (especially if you are over 40) join Dan's list. It's 100% free, HERE.