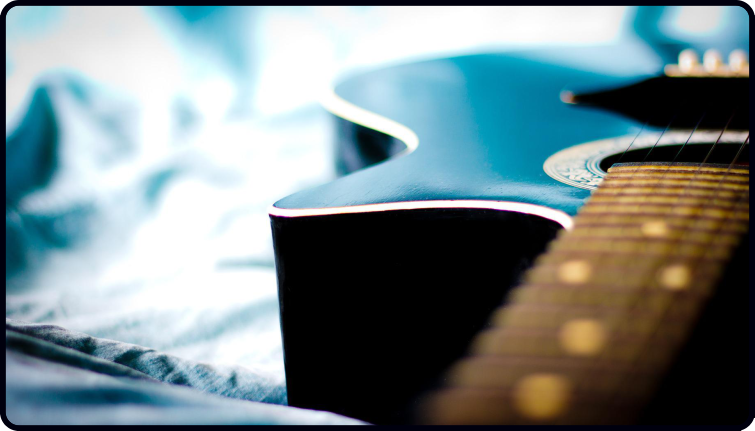 There's a really cool skill that pretty much all great guitarists have.
This includes the likes of Paul Simon, Eric Clapton, Jimmy Page, Johnny Marr, James Taylor, Tommy Emmanuel, and more…
…And if you like the sound of jangly guitars as heard in tunes such as "Brown Eyed Girl", "April Come She Will" (a song many of you have learnt from my tutorial), and many more, then you will love "triads".
If you've never tried them, here's a little power tip.
Take a D Major chord,
Check each note is clear and then…
Move the D chord up and down the fretboard
Play the three strings you are fretting (G, B, and high E strings)
Try the chord shape on the low frets and try it on the high frets.
Try strumming it, picking it, and embellishing it.
See if you can move it around to create some cool chord progressions.
It's so much fun.
And guess what?
Once you are doing any of the above, you are playing triads.
You just might not have known it.
The simple fact is, triads don't have to be hard to learn and use.
You simply take three notes from a basic chord and move them around the fretboard just like we did with the D chord.
The problem is the other triads can be harder to work out.
Plus, knowing which shapes, which three notes, and where to move them to so they sound good is not easy.
So, it's a good idea to experiment with the D chord…
…But for a precise step-by-step guide on exactly what to do to get started with triads in a clear and simple way…
So you can spice up your playing today…
You might want to check out my latest Dan Thorpe Acoustic Academy lesson.
As you may know, this month I'm releasing one new lesson per week and the deadline to get this specific lesson on getting started with triads is…
Tonight, at midnight.
Check out the link below to find out more and join if you like…
The Dan Thorpe Acoustic Academy
Have a great day!
Dan Thorpe
Guitar Domination
P.S. I'm not one for talking about guitar tricks but when used in a simple way, triads are pretty much a nifty fun little trick you can use.
Then, when you want to go deeper with them, they are a whole new technique that can open up many doors in your playing. This includes in ways such as by combining lead and rhythm, playing alternative and exciting versions of the same old chord progressions, and plenty more…
HERE's the place to get the lesson. And as the lesson is out now, if you join, you can start it right away.
P.P.S. This post was originally taken from Dan Thorpe's private email list. To get blog posts like this sent to you which are full of great tips to make fingerpicking, strumming, and learning guitar more enjoyable (especially if you are over 40) join Dan's list. It's 100% free, HERE.