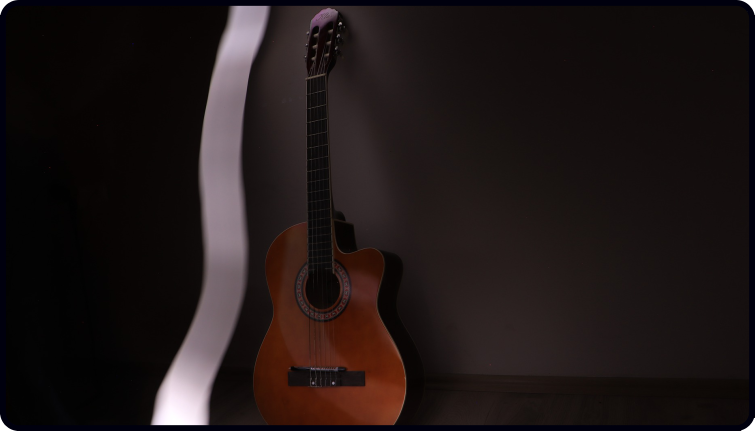 Welcome to a new Monday post with 3 random thoughts on all things guitar, music, and life, including buying guitars, single-note melodies, and more. Here we go…
#1 – Buying a new guitar
Some days, it feels like things aren't meant to be.
Yesterday I saw some random Facebook marketplace notification on my phone about a guitar for sale.
The guitar was a bargain, and it was only about a 7-8 minute drive from me.
It's a Yamaha electro-acoustic, and it's a model I'm pretty sure my mate had.
If it is, it's one I loved.
So, I messaged the chap and arranged to go pick it up.
I set out, got near to his house, then boom, the road was at a standstill.
Fire engines were coming past, and we were stuck gridlocked for about 45 minutes.
I had to rearrange as the chap was heading out and I had to go get Archie.
Anyway, it felt like it wasn't meant to be, but we will see. I will go tomorrow and see if he still has it.
Will see then what the gods of guitar have in store!
It's not like I don't have enough guitars, but you know what it's like, the thrill of getting a new guitar is always fun!
#2 – Muddy Water advice and how you might surprise yourself
Every now and then I grab an old guitar book or magazine and like to open up the pages and read something random for a few minutes.
Today, I looked through a guitar magazine from November 1993 (I didn't play guitar then, I bought a load of back issues on eBay about 10 years ago and had some given to me by a student).
Anyway, I opened it up and there was a great piece on Muddy Waters.
In the interview, he said about his song, "Country Blues"…
"I really heard myself for the first time. When I heard the record, I thought man this boy can sing the blues, and I was surprised because I didn't know I could sing like that."
This just goes to show the power of recording yourself. I say it a lot, but recording yourself and listening back to it is key.
Even the great Muddy Waters was surprised by this process. It's not easy, but if you do it enough and practise this skill, you might just surprise yourself with how far you've progressed.
It's also interesting how back then it was pretty difficult and expensive to record yourself, whereas now we can just whip out our smartphones and do it instantly.
#3 – Single-note melodies are fun
Once you've played for a while and can do fancy stuff, it's easy to forget that the simple stuff can be lots of fun.
For example, I rarely see teachers giving out lessons on playing little single-note melodies.
You know the type where you just play the memorable melody to a song and nothing else.
These are great, as they are technically not hard.
If the song is popular, the melody is instantly recognisable, and learning these are great for building confidence and a skillset.
A few students have been talking about this idea lately and years ago I released a book on this called Christmas Chords where I taught the songs in 3 levels…
Level 1 was the pure melody.
Level 2 featured the melody + plus simple bass notes to fill out the sound.
Level 3 was the above plus the fancy stuff like embellishments and chord tones.
I call these three layers the "3D method" and it's so much fun.
One thing I want to do this year is go back to this method a bit more because it's always a hit when I do it.
Anyway, on the 1st of May, I'll be releasing the 3D Method version of an incredibly popular song.
I'll share more about this in a few days' time, but for now, if you have never done it, I highly recommend you get practising single-note melodies, particularly if you've not yet learnt your first five songs.
 …And if you want to get the 3D Method and song lesson touched upon above, plus some other very cool lessons coming on the 1st of May, here's the place…
The Dan Thorpe Acoustic Academy
Have a great Monday!
Dan Thorpe
Guitar Domination
P.S. This post was originally taken from Dan Thorpe's private email list. To get blog posts like this sent to you which are full of gxreat tips to make fingerpicking, strumming, and learning guitar more enjoyable (especially if you are over 40) join Dan's list. It's 100% free, HERE.