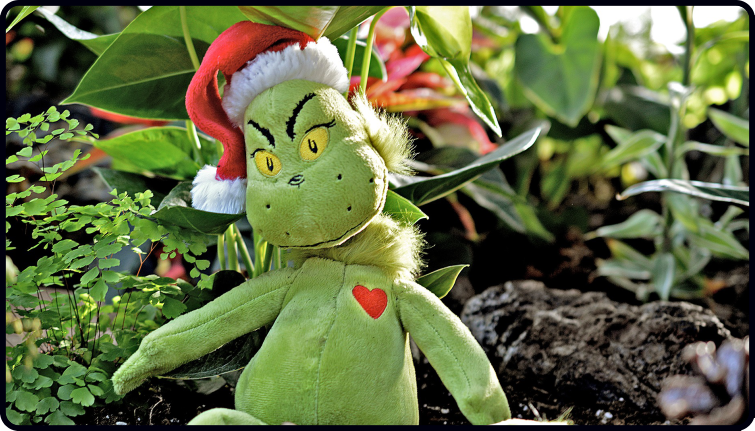 Welcome to a new Monday post with 3 random thoughts on all things guitar, music, and life, including the Grinch having a gig, end of the year thoughts, and more…
Here we go…
#1 – When my bum destroyed my guitar!
Just the other day, a member of the Fingerstyle 101 Facebook group had an accident where her guitar was damaged.
When this happens, it's gut-wrenching, but here's a funny story for you.
About 12 years ago, I had an Epiphone SG electric guitar.
I was jamming away happily with a beer while sitting on the floor.
Although the space was a little cramped, I was loving life.
I put the guitar on the floor and got up to get something…
Then disaster struck!
I returned to the guitar, and as I quickly stepped over it and sat down, my bum somehow managed to sit on part of the jack lead at an angle with the force of my weight behind it…
And with a big crack, the wood split.
The jack being ripped to the side with force butchered the front of the guitar.
It was a mess and I'm not really sure how it happened (sheer bad luck and me being about 4 stone chubbier back then probably had something to do with it!)
Crazy story, but a lesson learned for me that day.
Since then, I have always been a lot more careful about where I place my guitars, let's put it that way!
#2 – The Grinch has got a gig!
The Grinch called last night.
He has changed his ways. No longer does he want to be mean and ruin Christmas.
Instead, the hairy one wants to put on a concert for everyone.
He knows at Christmas his family may ask him to play something on guitar.
He needs advice though.
The Grinch wants to play something impressive.
What should he do?
Well, I told him:
"If you ever want to impress others, do something that impresses you."
Often, this means playing simple music that is recognisable and which sounds great to your ears.
A scale isn't gonna impress the Grinch's audience, just like it won't impress Aunt Betty on Christmas day.
If anyone asks you to play guitar over the holidays, what would you do?
You might tell them "No" as you casually kick back with a glass of mulled wine.
If so, that is cool (playing for yourself and not others should be a priority anyway), but….
If you do want to play for others this Christmas, get prepared in advance and practise your best piece.
Above all, remember people love to hear simple melodies that they recognise!
This means things such as famous guitar riffs, the 12-bar blues shuffle, a well-known melody, a singalong version of a Christmas carol, etc.
This all works great!
Good luck Grinchy (and to you too, if you do get the guitar out on Christmas day!)
#3 – Time for reflection
How was 2021 for you and your guitar playing?
As it is nearly the end of the year, it's a good idea to look back and reflect a little on how you did.
I hope it was a successful one and you made some big breakthroughs.
For some, it may have been a great year of progress.
…Or it may have been a year of mostly getting back into guitar after a long break.
Some of you may have not made as much progress as you would have liked.
…But as long as you are still here, you are still playing, learning, and having fun, that's the main thing.
You can think about what went well, what could have been better, and how you can make 2022 even more awesome!
The key is to learn from the past, enjoy the present, and plan for the future.
Next year can be an amazing one and remember, progress is not a smooth line – there will be slower times followed by big breakthroughs.
Always worth keeping that in mind as we head towards a new year and new start.
Happy holidays!
Dan Thorpe
Guitar Domination
P.S. If you want a little help leading into the new year, then you may want to check this out (especially if you are a fingerpicker, or you want to get started with fingerpicking the proper way)…
Fingerstyle 101 – a step-by-step guide to beautiful fingerpicking guitar playing
P.P.S. This post was originally taken from Dan Thorpe's private email list. To get blog posts like this sent to you which are full of great tips to make fingerpicking, strumming, and learning guitar more enjoyable (especially if you are over 40) join Dan's list. It's 100% free, HERE.