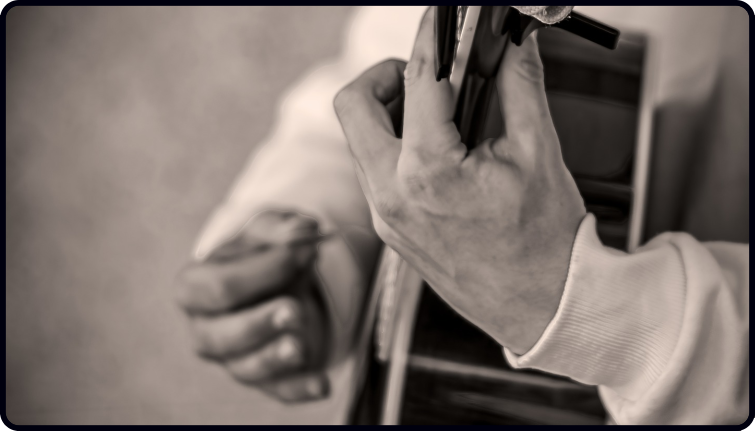 Here is another Friday 10-second tip for you to enjoy…
It's all about chord changes.
Slow chord changes can be incredibly frustrating.
…But here's a tip that will help.
It's a simple tip that takes lots of concentration to apply, but when you do apply it, you'll see some great results over time.
This tip is all about:
Avoiding placing one finger at a time in your chords
The first stage most guitarists go through when learning chords is this:
They learn the chord shape and then methodically place each finger on the chord one at a time.
After a while, the student can play the chords clearly.
…But it's only THEN that they start thinking about how to change chords faster.
The problem is though, after months and 1000s of repetitions of placing their fingers on the fretboard one at a time…
They have built up bad habits.
You see, their fingers only know one way to play a chord at this stage.
That is, they have to place one finger down first, then another, and then another.
In the middle of a song, this is not so good.
So, let's avoid this.
How?
Well, no matter where you are with your playing, if your chord changes are still slow, ask yourself:
"Am I still placing one finger at a time on the fretboard for my chords?"
If so, try to avoid this and try to make it a habit to place all your fingers on the chord at the same time.
Yes, it is tough for sure.
…But try it with one chord.
Take an Em or Am to begin with.
Remove your fingers and place them on each of those chords ten times.
Each time you do, try to land the fingers at the same time.
You may find your fingers "dancing" around in the air at first. If so, you can always reach across with your picking hand and try to guide the fingers into the correct spot.
It may sound like a small thing, but building up this habit is key down the line for chord changes.
Don't go crazy with this – just one chord to begin with and then build from there.
For much more help with your chord changes, check out the chord-changing mini-course inside the Dan Thorpe Acoustic Academy.
There's much more to the academy than just this though, and you can find out all about it below:
The Dan Thorpe Acoustic Academy
Enjoy your Friday!
Dan Thorpe
Guitar Domination
P.S. This post was originally taken from Dan Thorpe's private email list. To get blog posts like this sent to you which are full of great tips to make fingerpicking, strumming, and learning guitar more enjoyable (especially if you are over 40) join Dan's list. It's 100% free, HERE.