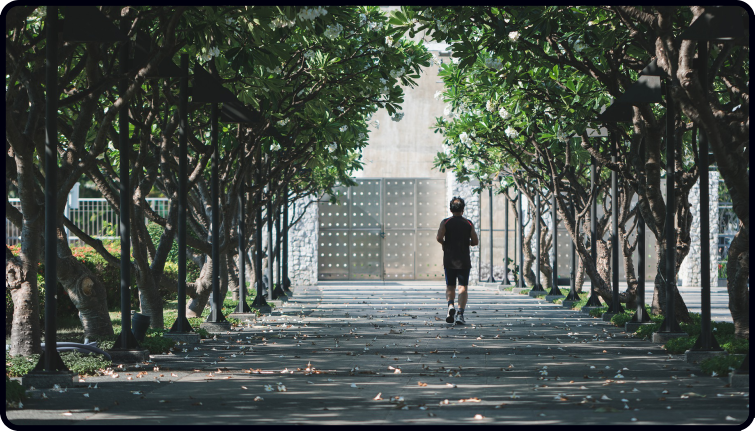 About 5 years ago, I did something slightly insane.
It was called a "Wolf Run".
This is where you basically get a gang of mates and run for miles, climb obstacles, crawl through mud, and swim across a lake which was ice cold…
All in the name of fun.
It was great fun, but to prepare, I had to train a fair bit.
The brutal nature of the Wolf Run in winter meant I had to.
…But when I started my training, one thing I quickly realised was that I hate long gruelling, painful workouts that go on forever.
Short, sharp, and focused training that gets me out of breath and feeling great wins every time.
That worked for me then, and that's what I like on the guitar too.
And I've tried many a guitar workout over the years.
Most guitar workouts I've tried have been useless though.
The problem with most guitar workouts is that they are usually too complex, too long, or too irrelevant to the student.
For example, who wants to do a 45-minute workout of scales, chords, and modes you'll never use?
Not me!
And that's before you even get to the playing of the songs you desperately want to play.
I don't care if you have 10 minutes a day of spare time or 10 hours, time is precious.
That's why I like students to use it wisely.
And that's why a while back, I started creating video workouts for students.
But so far, these specific video workouts have only been included in my membership programme.
Until now, that is.
Because as of now, inside of my brand-new 7-Day Transformation course, there are two very powerful workouts.
These are what I call the "4-minute workouts".
Basically, they work like this…
You go through the 7-day course, which is full of exciting, practical, and confidence-building lessons.
(And they take just a short amount of time each day to watch and apply).
Then you do the "4-minute workouts".
And unlike most workouts, these 4-minute workouts are practical.
That's because they are based on getting you to refresh and refine everything you've learnt in the course in a short, sharp, and focused way.
So you can make real progress every single day…
…And in less time than it takes to boil an egg (unless you like a super sloppy egg, yuck!)
Best of all, there are two workouts – a beginner workout and an early intermediate workout.
These two workouts utilize two slightly different spins on the content inside the course, and both are designed to suit your skill level.
So, if this sounds interesting to you, check out the 7-Day Transformation course which is available below.
Find out more about the 7-Day Transformation Course
Even if you don't get this course, it's definitely worth creating your own workouts. Just make them relevant to the things that you care about on guitar.
Also, don't forget, if you order by the time this sale finishes, you will get two very cool bonuses for free too.
These include:
#1 – The "Pro Secrets" Mini Course (featuring 21 tips from the legends of guitar such as Eric Clapton, Jimi Hendrix, Chet Atkins, Mark Knopfler, Jimmy Page, Tommy Emmanuel, and more).
#2 – Fretboard Fireworks (A collection of my most important lessons on exploring, "unlocking", and running up and down the fretboard in multiple fun ways).
Enjoy!
Dan Thorpe
Guitar Domination
P.S. This post was originally taken from Dan Thorpe's private email list. To get blog posts like this sent to you which are full of great tips to make fingerpicking, strumming, and learning guitar more enjoyable (especially if you are over 40) join Dan's list. It's 100% free, HERE.