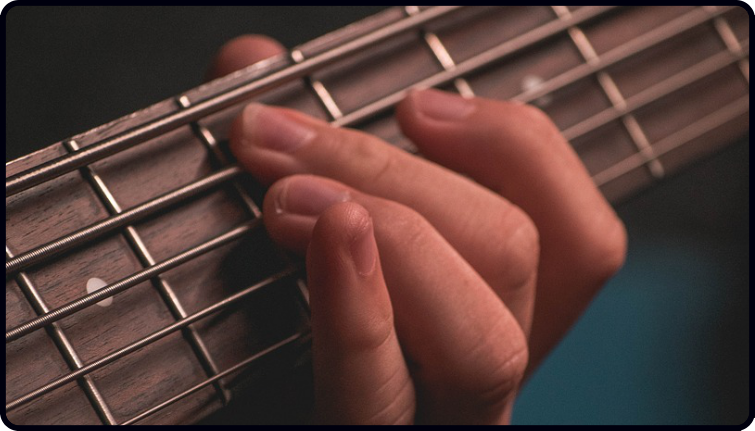 Today I want to tell you about how to make the guitar as fun as possible.
In fact, I want to show you just how fun the guitar can be.
For some of you guitarists out there, it's your own thought processes that may be holding you back.
You may limit yourself without realising it.
That's why sometimes you just need some inspiration.
…And to help you here, I've decided to become a TikTok star.
Kidding…
Well, kind of.
I've, in fact, decided to get on social media.
For the rest of the month, my aim is to release a brand-new video every single day.
Each video is very short (they're 1 minute or less).
…But each video will either show you something to hopefully inspire you…
…You'll learn about the bare bones of some exciting core techniques…
…Or you'll get powerful reminders of key concepts you may have forgotten about.
I'm really excited to get these videos out there.
The videos have been recorded and they supplement these emails really well.
…But as it's videos, you get to see and hear the exact things I often talk about in these emails.
I'm sure you'll get a fair bit of value from them.
So, here's where you can find me and the videos on social media.
TikTok (yep, I'm actually on TikTok, ha-ha).
YouTube (You'll find these videos in the "YouTube Shorts" section once you subscribe to my channel)
There are a few videos up already.
This is the first time I've promoted the brand-new Instagram and TikTok pages.
…So be sure to go to the above links.
Then subscribe to the above pages and you'll see daily videos from me.
I may not be able to post all the videos on each of the above channels due to their length (TikTok only allows shorter videos)…
Therefore, to see them all, you may want to "like" me on more than one of the above channels.
If you enjoy these videos, please do comment on them, share them, and like them on the above sites.
If there is enough traction and it's worthwhile for me to do them, I'll continue to share videos after the end of June – so please get involved.
The videos are fun, they'll hopefully inspire you, and you'll learn a few new things, I'm sure.
Let's keep your inspiration up so you can enjoy your playing more than ever – that's what it's all about.
Dan Thorpe
Guitar Domination
P.S. Here are the links again:
P.P.S. This post was originally taken from Dan Thorpe's private email list. To get blog posts like this sent to you which are full of great tips to make fingerpicking, strumming, and learning guitar more enjoyable (especially if you are over 40) join Dan's list. It's 100% free, HERE.