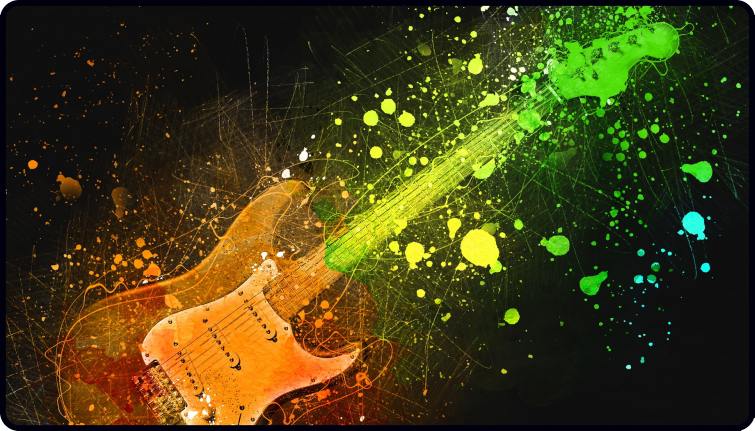 Welcome to a new Monday post with 3 random thoughts on all things guitar, music, and life, including the nostalgic effect of weddings, a useful creativity tips, and annoying mistakes.
Here we go…
#1 – Nostalgia
Twenty-something years ago, most of my best friends and I all met at a rock club called JBs.
Well, the other day two of them whom I love dearly got married (Marion and Steven).
In the evening, there was a DJ who was playing all those rock tunes from when we were 18 or so from back in the JBs days.
This time, the venue and setting were obviously very different.
It was funny how the people were the same – although we were better dressed than we used to be…
…And how everyone was in suits and nice dresses dancing to this heavy rock stuff from back in the day. (The DJ did start the night off with the more typical ABBA though!)
I loved every second of it.
There was some good nostalgia.
I don't think too much about the past, but this got me thinking a little about those old days such as meeting an old girlfriend, my 18th birthday, and many wild nights with my friends.
And of course, all those memories come with a soundtrack of songs.
That's one of the powerful things about music and being a musician.
For me, listening to these songs or playing them on guitar is a pretty special feeling and I'm sure you feel the same way too.
That's one of the beauties of music I reckon…
How it can transport us back to a different time and place, and all those special nostalgic memories the songs can conjure up.
#2 – Creating your own chord progression 
One thing I've always liked to do is be creative on the guitar.
Back when I was learning, I wasn't technically very good for some time.
That meant playing songs was a struggle.
So, I would often just noodle around and one thing I'd do is play about with creating my own chord progressions.
I'd often get a chord progression from a song I knew and change it around.
For example, a song may have had a C-F-C-G chord progression.
As a moody teenager, I'd think that was too "happy", so I'd do things like swap the F for a Dm.
Then I might repeat the progression but swap a C for an Am.
This would give me a chord progression such as C-Dm-C-G-Am-F-C-G.
The exact chord progression is not the point.
It's all about being creative and taking what you know and playing around with it in creative ways.
Chord progressions are a fun place to start with this.
#3 – We all make mistakes
As we all know, when it comes to guitar playing, mistakes are inevitable.
It's best to try to avoid mistakes as much as you can, but when you spot a familiar mistake…
Get to work fixing it.
Some people beat themselves up over typical mistakes.
Try to avoid that.
It's much better to take a deep breath and accept the mistake.
Then spend time fixing it every day until your technical improvements squash this mistake (hopefully for good).
Do that methodically and your playing will improve for sure.
Speaking of mistakes though, last week, I sent out an email about my 7-Day Transformation Course.
I was talking about the course, and for some reason, there was a glitch.
It meant that some people were given a link to access the course (even though they hadn't yet purchased it).
Oops. 
That confused some people and understandably so.
That was annoying and I'm sorry for any confusion.
Anyway, if you do want to check out the 7-day course you can do so below.
…And to help rectify my mistake and the confusion from that email, if you get this course in the next few days, I'm throwing in my In Focus eBook as a free bonus.
This mini eBook is something I no longer sell, and it contains 12 fun guitar lessons I created a few years ago for those in my membership programme.
Once you get your copy of the 7-day course, I'll send the eBook over for you to enjoy.
Find out more about the 7-Day Transformation Course
Have a great week!
Dan Thorpe
Guitar Domination
P.S. This post was originally taken from Dan Thorpe's private email list. To get blog posts like this sent to you which are full of great tips to make fingerpicking, strumming, and learning guitar more enjoyable (especially if you are over 40) join Dan's list. It's 100% free, HERE.