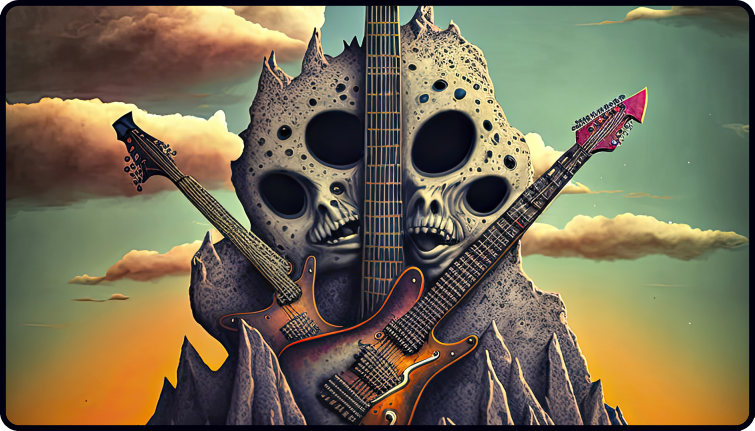 Thanks for all the kind words about the Acoustic Asylum podcast so far.
I'm very much just getting the ball rolling, but once I get a regular schedule going and the website fully up and running, it's going to be great fun.
I've always wanted to combine some sort of fiction, imagery, and a cryptic element to guitar teaching to keep it fun…
…While still making it practical and to the point (you're still here to improve your guitar playing, of course).
And I think this will be the place.
I've just recorded and released episode #2…
…Which is a mix of practical advice and some of my random thoughts.
In this episode, I talk about my love of movies, and I touch on how Tarantino, Hitchcock, Christopher Nolan, and movies like Sin City, Watchmen, as well as old film noir and Hammer horror movies, are influencing this podcast.
Side note: at one point, I did think about how I could put my movie inspirations into a guitar teaching video format, but I realised that would be pretty tacky.
I mean, what would I have done?
Put on a Christopher Lee vampire outfit (he looked cool) and sat and played guitar for you. Ha-ha
No way.
Instead, it's going to be much cooler than that.
For now, in episode #2, I share four very important practice tips that I get all my students to follow.
These are super important tips which you may or may not know, or you may need a reminder of.
At the end, I wrap the podcast up with a powerful bonus fifth tip that will help solidify the other advice I share.
That's the practical stuff.
Anyway, some really good stuff will be coming (and even Archie wants to make a guest appearance on the podcast soon).
So, if you want a little random movie talk plus some very practical advice…
You'll find it in episode #2, which you can find below:
https://acousticasylum.com/listen
Dan Thorpe
Guitar Domination
P.S. I hope you enjoy the podcast and if wherever you listen to the podcast allows you to, please leave it a review. That would mean the world to me. Enjoy!
P.P.S. This post was originally taken from Dan Thorpe's private email list. To get blog posts like this sent to you which are full of great tips to make fingerpicking, strumming, and learning guitar more enjoyable (especially if you are over 40) join Dan's list. It's 100% free, HERE.