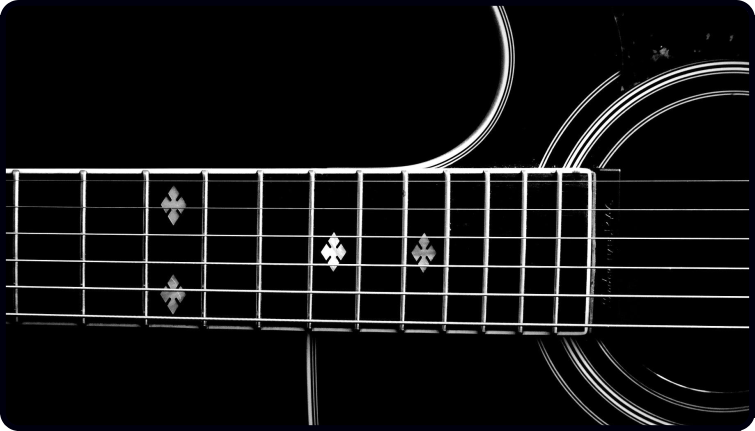 Here is another 10-second tip for you to enjoy… Today we are talking about learning the notes on the fretboard.
If you've ever tried to learn where all the notes are on the fretboard but got stuck, here's a tip.
…And it's one that will help you not feel overwhelmed with this tricky part of guitar playing.
After all, on a guitar, there are over 100 different places to play notes!
So it's no wonder many guitarists get overwhelmed by trying to learn the notes on the fretboard!
Anyway, here's what I get students to do…
Work on 3 notes at first.
Yep, instead of trying to learn 5, 10, or even 20 notes on the fretboard (which some people do)…
Just learn, practise, and remember 3 notes today.
Then, refresh these 3 notes tomorrow.
Then, over time, as you build your confidence, you can "fill in the blanks" with the other notes.
So which string should you begin with?
I always get students to learn the low E string first.
This is the ideal string to start with.
One reason being once you learn the notes on the low E string, you will automatically know the notes on the high E string (because they are tuned the same).
Anyway, there you go.
It's a simple tip, but I hope you found it useful.
If you want a step-by-step plan for learning the notes on the fretboard, where all the guesswork has been taken out of it for you, check out my Dan Thorpe Acoustic Academy here:
Find out more about the Dan Thorpe Acoustic Academy 
There is a 7-day Mini Course on this inside (but you can spread it over a longer period if you like), and there's also a fun quiz to test you on this.
Enjoy your weekend!
Dan Thorpe
Guitar Domination
P.S. This post was originally taken from Dan Thorpe's private email list. To get blog posts like this sent to you which are full of great tips to make fingerpicking, strumming, and learning guitar more enjoyable (especially if you are over 40) join Dan's list. It's 100% free, HERE.