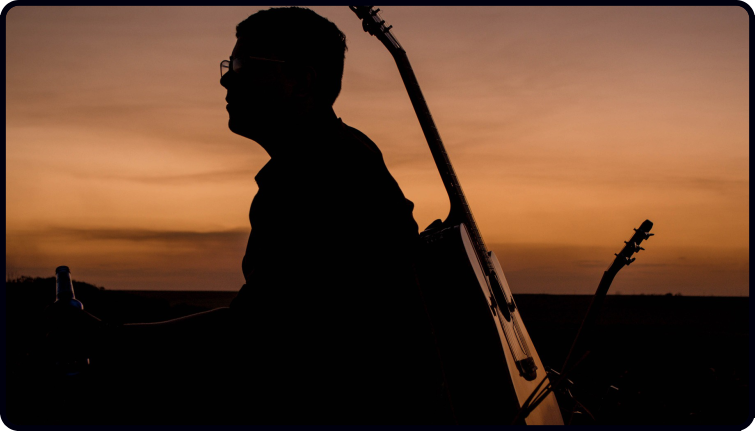 It's so important to have a "go-to" piece of music that you truly love to play.
I wrote about this last week, and the responses were great.
In that email, I talked about "Romanza" – a stunning piece of music many people love to play, listen to, and perform.
Many found that email quite inspiring and quite a few people emailed back saying how much they love that piece.
Today I want to share the audio of how "Romanza" sounds with you (just in case you've never heard it before).
A while back, I recorded an audio track of the piece so you can hear how it sounds.
And before playing it for the recording, I hadn't played the piece for a little while…
But it felt so natural to play and it was easy to remember…
…And the music flowed from my fingertips like water from a tap.
I don't say that to brag, but the reason why this song is so easy for me to play these days is that…
Well, I'll let you guess the answer to why it's so easy for me to play.
Is it because:
A – I'm a superstar guitarist blessed with the talent of Clapton, Hendrix, and Gilmour
B – I have an IQ of 140 and a memory like the Johnny 5 robot from the 80s movie, Short Circuit
C – I practised the song to death when I learnt it
I'm guessing you know which of the above is correct.
Of course, it is A.
Kidding.
The answer is most definitely C.
You see, when I first learnt "Romanza", I was stunned by its beauty, elegance, and the melody.
Specifically, I loved the use of open strings, making it easy to play for the most part.
Combine that with a gorgeous and super simple melody played on the high E string, and this became, at the time, like the holy grail of all songs.
Lots of open strings, making it easy to play
+
A stunning melody
=
A wonderful song
Back then, I was very early on in my teaching career (in fact, a student introduced me to the piece and wanted me to teach it to her).
At that point, I hadn't yet created any of my fingerstyle arrangements…
…Or all those in my Fingerstyle Collection course, and the ones I've taught over the years in the Dan Thorpe Acoustic Academy, weren't invented yet.
This meant the "No chord fingerstyle" method I invented wasn't even a murmur in the deep recesses of my subconscious.
In other words, I was still doing what most guitar teachers do.
That meant teaching tricky strumming songs (which are hard to play and often need the singing)…
And I was teaching tricky arrangements of famous tunes which, for the most part, were gruelling to learn.
So "Romanza" was like the best thing since sliced bread back then.
And if you want to learn it, you can.
I urge every guitarist out there to learn at least the first four bars, and I challenge everyone to play even just a bit of it and see if you or those you play it to don't fall in love with it quickly.
This is a classical tune and as I often say, there is a lot to be learnt from classical music – especially when it sounds this good.
Anyway, you can listen to it, and if you want, you can get learning it below.
Find out more about the 7-Day Transformation Course
Enjoy the romance of the "Romanza".
Dan Thorpe
Guitar Domination
P.S. If you get this 7-day course by tomorrow night (Pacific time), I'm throwing in my In Focus eBook as a free bonus.
This mini eBook is something I no longer sell, and it contains 12 fun guitar lessons I created a few years ago for those in my membership programme.
Once you get your copy of the 7-day course, you will also see your copy of the In Focus eBook in your account for you to enjoy.
P.P.S. This post was originally taken from Dan Thorpe's private email list. To get blog posts like this sent to you which are full of great tips to make fingerpicking, strumming, and learning guitar more enjoyable (especially if you are over 40) join Dan's list. It's 100% free, HERE.