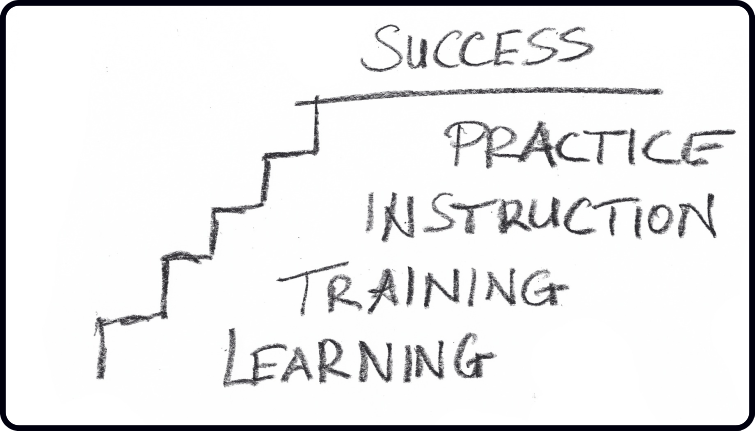 Here are two more interesting emails I have got lately.
I hope you find the emails and my thoughts useful…
Email #1
"I'm seventy years old and learning this music thing is completely foreign to my previous life experiences.   
So, I've had to rewire my brain and everything is slow going because I also run my own business and time and extra energy is in short supply. 
But the practice and music has been good to and for me. I feel I'm more sharper cognitively and memory wise. I am a lifelong music lover.  
I remember when the first battery transistor radios came out from Japan in the sixties and I hustled up the cash and bought one so I could put it under my pillow late at night so I could catch the late night blues shows on the black radio stations which I was forbidden to listen to and would've got an ass whipping if I got caught.  LOL!
I don't know where I got it from but I've always loved the blues, especially the acoustic fingerpicking style of the old bluesmen like Robert Johnson and lightning Hopkins n such. jug bands, washboards, harps I guess it was more about the feel of it than anything else. 
I also found that I can write music and lyrics.  I wish I had more time and someone to challenge me along!"
Thx, Dave
Ah, I can imagine how exciting those times must have been for Dave.
Sitting, listening to the transistor radio and eagerly awaiting the tunes.
I had my own experiences similar to this (but with FM radio) back in the late 90s when I was starting to fall in love with music.
These days, anyone can access music instantly.
And I often think the people who don't have these experiences don't quite fully love music or appreciate it as much as those of us who have these experiences.
I mean, sitting long into the night listening to tunes on the radio with gleeful anticipation of seeing what gem of a tune comes next is very exciting.
So, if you ever doubt the hard work is worth it with the guitar…
Just remember the passion for music you have, the massive love you have for those songs, and those past experiences when you fell in love with music for the first time.
I find for some folk, looking back at those times can be hugely motivating for today.
Email #2
"Dan, I love the way you teach! I've learned more in the past week than in the many years I've carried around a guitar. Thank you and I look forward to working with you in the future. I now have a real song under my belt and for the first time in my life I'm singing and playing at the same time and it feels natural!"
Janet
Janet left the above comment when reviewing my Breakthrough Beginner course.
As you might know, on my website where I host my courses, you can leave comments and that was what Janet said about it the other day.
That was a really lovely comment to get.
It just goes to show no matter what has happened in the past, you can make a lot of progress on the guitar.
That also goes for if you struggled for years.
You can change things around.
Truth be told, and I say this a lot (I've been called arrogant once or twice for saying it, but I stand by it)…
Most guitar lessons just aren't all that good.
Not many people give you structure, technique-building lessons, "small wins" to help keep you motivated, lessons on improving musicality (which is vital) or simple songs to learn.
If more people did that, there would be a whole lot fewer frustrated guitarists out there.
…But I'm delighted for Janet and the progress she's made.
It means the world to me, but I'm not going to take all the credit.
Far from it.
It takes two to tango.
Me and you (imagine that, ha-ha).
Because you have to have an open mind, be willing to try something different and commit to my ideas (which are different to most guitar lessons out there).
If you do that, you too can make the progress you deserve.
And if you want to try out the Breakthrough Beginner course, you can.
It's actually a free bonus for my 7-day course (but truth be told for most people, Breakthrough Beginner is probably more valuable – hence why I will start selling it as a standalone course soon).
Anyway, to get both the 7-Day Transformation course and Breakthrough Beginner, you can do so below…
Find out more about the 7-Day Transformation Course
Plus, if you order by midnight tonight (Pacific time) I'm throwing in my In Focus eBook for free.
This is the last chance to get this eBook, as I don't sell it or offer it anywhere else.
Have a great day of practice.
Dan Thorpe
Guitar Domination
P.S. This post was originally taken from Dan Thorpe's private email list. To get blog posts like this sent to you which are full of great tips to make fingerpicking, strumming, and learning guitar more enjoyable (especially if you are over 40) join Dan's list. It's 100% free, HERE.