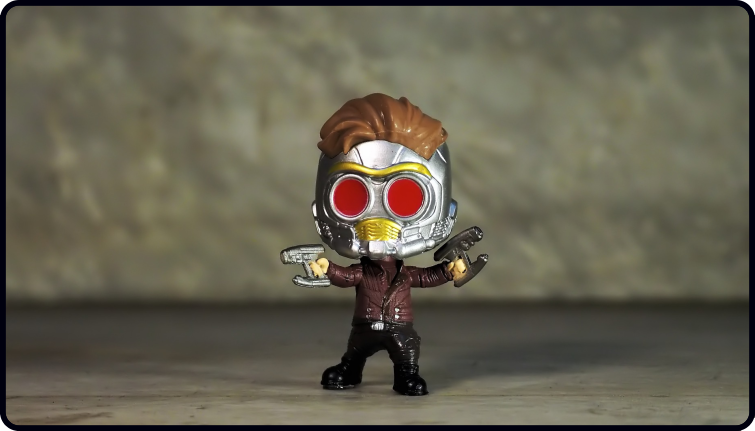 Welcome to a new post with 3 random thoughts on all things guitar, music, and life, including the soundtrack to Guardians of the Galaxy, some sad news about DTAA member Bill, and some simple changes.
Here we go…
#1 – Guardians of the Galaxy
A couple of times a year, my uncle and I like to go to the cinema.
The other day we saw Guardians of the Galaxy 3.
The movie was ace and the director, I'm guessing, is a huge fan of music.
In the movie, there was music from Heart, Radiohead, Faith No More, Beastie Boys, Bruce Springsteen, and in the second movie, which I watched a few days before, there were songs from Cat Stevens and Fleetwood Mac.
The movies are fun, and they're made all the better by the music.
I did what I tend to do when music is on – I stop paying attention to the movie, and just sit and enjoy the music and let it wash over me (it's a slightly annoying thing I can't help).
They even mentioned Adrian Belew and King Crimson (who I wrote about recently a couple of times) so that was a great surprise.
Hearing my favourite songs and one of my favourite guitarists and bands being spoken about in a major Hollywood film is very cool – especially as I imagine 99% of people watching the movie never heard of them.
Anyway, cool movie if you get a chance to watch it – even if you don't like the Marvel stuff.
#2 – R.I.P. Bill
I got a sad email the other day.
It was on behalf of star Dan Thorpe Acoustic Academy member, Bill Webb.
Over the last 6 months, Bill has won the Leaderboard in the Academy multiple times.
The Leaderboard is a way of rewarding members for using the Academy and getting involved. It was only 10 days or so ago that I sent out Bill's latest prize for winning the Leaderboard for April.
The email I got was from Bill's children and it said this:
"This is Susan/Mike (daughter and son) of Bill.
Our father suffered a terminal stroke Saturday.
He passed away Monday afternoon. 
We know you were his favorite guitar teacher. And we know you were doing your best to get Dad ready to play for his great-grandchildren. We found numerous copies of Happy Birthday along handwritten notes all over the office.
He really loved picking up the guitar the later part of his life.
We wanted you to know."
Susan/Mike
That was a sad and touching email to get.
So, I just wanted to pay tribute to Bill and tonight I'll be raising a glass to him.
I'm honoured to have been able to teach him.
Rest in peace, Bill.
#3 – Simple works better
One thing I want to do this year is to simplify my tuition and the way I deliver lessons.
I've said it for years…
A lot of guitar tuition is more random, complex, and fragmented than it should be.
So, not only have I been releasing some simpler lessons (such as the Breakthrough Beginner course) but I'm revamping the Dan Thorpe Acoustic Academy to make that even simpler, clearer, and downright more fun to be part of. (This is going to be great.)
Over the last few weeks, I've started to simplify my emails.
In the past, if I was promoting a product, I'd usually send out two 'alternate endings' to the emails I send out.
If you'd purchased the product mentioned, there would be a link to access it, but if you hadn't purchased it, there would be a link to see the sales page.
It worked pretty well, but as is always the case with technology, things can go wrong.
More than a few times, the software (or my brain) glitched, meaning the wrong link was sent to the wrong people.
That confused people, and rightfully so.
So from now on, my emails will be simpler.
When I mention a product, I will send the link to it.
This keeps it nice and simple.
…But I've added a new section to the bottom of the emails…
It's a "post email encore" section which is like the email version of a band coming back on stage for an encore, haha.
You can scroll down to see this "Post email encore" section, which contains all the most useful links you might want to access.
In life, when communicating with others, and on the guitar, simple works best after all.
Stay tuned for more exciting changes coming soon…
Speaking of simple, if you haven't checked it out yet, my Fingerstyle 101 book and course contain plenty of simple advice all fingerpickers should know in my experience.
Fingerstyle 101 – a step-by-step guide to beautiful fingerpicking guitar playing
I hope you enjoyed this email and have a great Monday!
Dan Thorpe
Guitar Domination
P.S. This post was originally taken from Dan Thorpe's private email list. To get blog posts like this sent to you which are full of great tips to make fingerpicking, strumming, and learning guitar more enjoyable (especially if you are over 40) join Dan's list. It's 100% free, HERE.