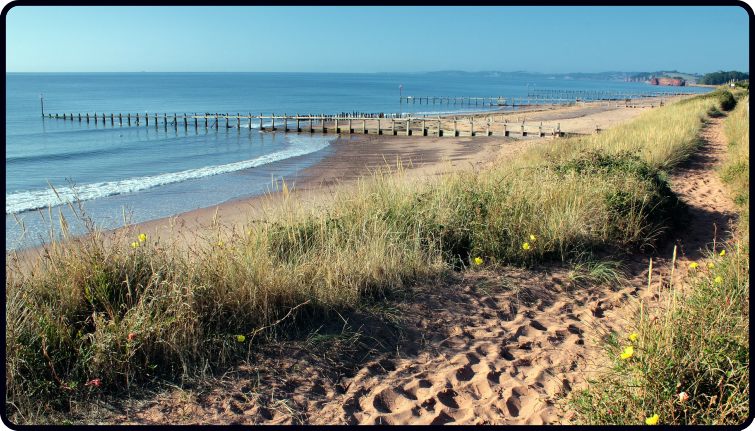 I just came back from a great little 4-day holiday in Devon, in the south of England.
There was one thing that stood out to me while I was there, and it was something that reminds me of the journey of learning guitar.
One of the days, me and Sally, my partner, took a walk from where we were staying in Brixham, all the way to a place called Paignton.
It was a stunning coastal path that took us about 4 hours, including the stops.
The walk took us through all sorts of different places, beautiful little beach coves, a coastal woodland, a big beach jam-packed with holiday goers,…
A coastal military site built back in WWII to attack invaders, a golf course, an old steam engine tooting past, hundreds of boats in the harbour, and more.
It was a blazing hot day and at times we were dripping with sweat and there were many hilly sections to contend with, but…
We were determined to get to our destination, and more importantly, we were determined to enjoy every second of it.
Whenever I have done this sort of walk in the past, I have noticed most people just stick their heads down and walk, as they are so keen on just getting to their destination.
They actually forget to have fun on the journey.
I used to be the same.
For us, it was not about getting to Paignton, (we had already been there two days before), but it was about the enjoyable walk, and finding new things on the way.
We could easily have driven to Paignton but we would have missed out on the exercise and enjoyment, and all the new sights (including the 80-year-old walking down the steepest of paths with Bertie the dog).
In fact, when we got to Paignton we only stopped for an hour for a well-earned beer before heading back via ferry to get ready for a fun evening out.
The point is, it is so important to enjoy the journey.
Most people who learn guitar don't enjoy the early days; they just want to get to the final destination as fast as possible.
I made that mistake.
The first few years of my playing were frustrating, boring, and rarely did I stop to enjoy what I could do.
There were things I could do okay, but I never took a moment to enjoy them and play them.
Like Augustus Gloop in Charlie and the Chocolate Factory, I was always wanting more
It was made worse by me trying to go it alone.
If you want a bit more help on your journey, check out my book bundle.
Very soon, I'll be releasing an extra book for this bundle – available to everyone who has purchased the bundle in the past too.
This book will be a super important addition to the bundle, but once it is out the price will go up (more on this soon).
Therefore, if you are on the fence about getting it, now is a good time to get it.
Guitar Domination Super eBook Bundle.
Anyway, if you are having a holiday anytime soon, go and have fun, enjoy each moment, and remember that when practising guitar.
Hope you're having a great August!
Dan Thorpe
Guitar Domination
P.S. This post was originally taken from Dan Thorpe's private email list. To get blog posts like this sent to you which are full of great tips to make fingerpicking, strumming, and learning guitar more enjoyable (especially if you are over 40) join Dan's list. It's 100% free, HERE.