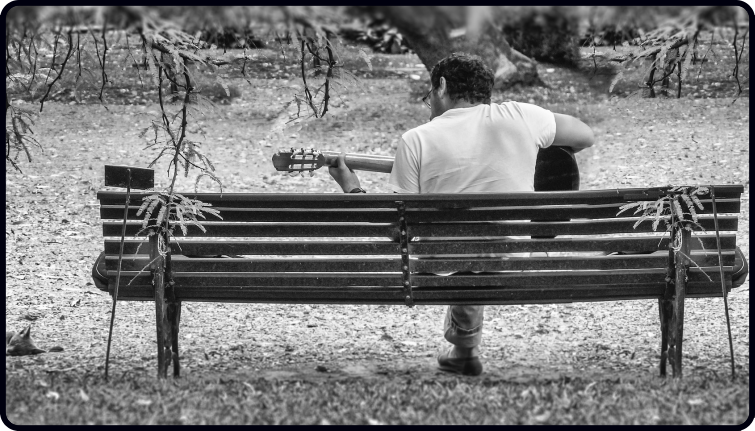 Welcome to a new Monday post with 3 random thoughts on all things guitar, music, and life, including advice on setting higher standards, tips on guitar practice routines so you can make the most out of your practice time, and more.
#1 – Stop trying to find your "why". Find your "where".
I read a good email the other day from a guy called Rob Allen.
It was NOT guitar-related, but it is definitely relevant to the instrument.
Here it is…
"If you keep missing your goals, I doubt it's because you don't want it bad enough.
It's because you haven't taken a long, hard look at your habits, behaviours, and environment, and designed them in a way that actually allows you to succeed.
Society has trained us to overestimate the power of purpose and underestimate the power of putting yourself in situations and environments where you can truly thrive". 
Yep, I have to agree with that.
Whenever I've got stuck on guitar or in life, it's not been a lack of motivation that was the problem.
It was more a lack of knowing what to do.
Once I got the right tools and support, I was up and running.
You no doubt already really want to succeed on guitar.
If you're stuck, imagine what it would be like if you got the right guitarists around you…
Those who can inspire you, motivate you, emphathise with you, and help you fix the problem areas in your playing.
Try to surround yourself with the right folk.
This can be teachers, other musicians, friends, a guitar-playing support network, and more.
#2 – Setting higher standards
A conversation I had the other day reminded me of this.
When I started teaching guitar full time (back in 2013), I used to attract some not-so-good students.
They were nice people, but they were terrible students who would cancel last minute and rarely practise anywhere near enough.
What did I do to fix this?
I raised my standards.
I did this by making my lessons more professional, more fun, increasing my prices, and setting clear terms about what I expected from them and new students right away.
It was pretty daunting, but guess what?
Some left, but that was great as they were quickly replaced by much better students who practised more, enjoyed the learning process, and turned up every week.
It was a big turning point, which leads me to this…
#3 – There is always room to raise the standards of your practice time
Some of you are already really great at this, have good practice routines in place, and practise at a high level.
Others though may need to put a little more focus into it.
If you feel you need to improve your guitar practice routines and practice time, here are some things that can help:
Practise at a time where you know you will be without distractions
Practise during a time of the day you feel fresh and really ready for it
Make your practice area a pleasant, inspiring environment
Get in a relaxed state beforehand
Reward yourself for having a good session
Improve one small thing (no matter how small) every day
Finish on a high
All these things will help you raise your standards and make practising more fun.
Some people talk about a lack of time, and I know time is a funny thing.
I will talk about this more in a future email, but for now, I will say, often we can make ten minutes here and there to get some practice in and…
If your practice is fun and productive, you will be far more likely to make this time.
If you want help improving the quality and enjoyment levels of your practice and want to develop good guitar practice routines, check out Fingerstyle 101 via the link below.
Fingerstyle 101 – a fun step-by-step guide to learning to fingerpick
Have a great Monday!
Dan Thorpe
Guitar Domination
P.S. If you got my Fingerstyle Collection course during the sale, great work. I hope it brings you many hours of joy with your playing.
P.P.S. This post was originally taken from Dan Thorpe's private email list. To get blog posts like this sent to you which are full of great tips to make fingerpicking, strumming, and learning guitar more enjoyable (especially if you are over 40) join Dan's list. It's 100% free, HERE.