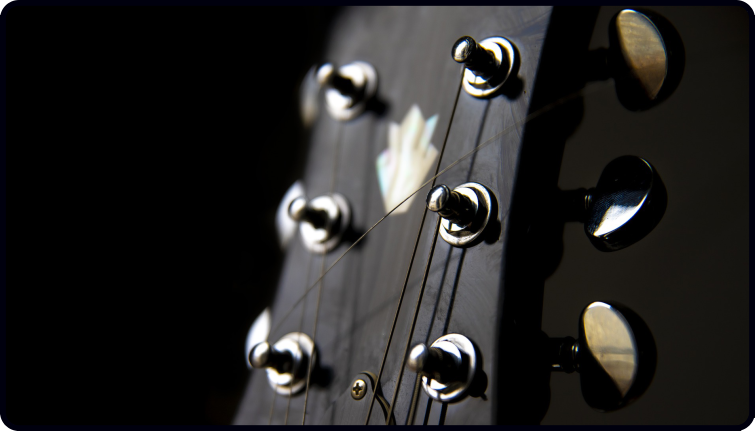 The last few Mondays I shared a post with 3 random thoughts about guitar, music, and life. So far, they have gone down well, so here is another covering injuries, tuning guitar by ear, and more…
I hope you enjoy… 
1 – Being able to tune by ear is a great skill
The other day, my student Paul was asking me for help on how to tune to "drop D" quicker.
If you don't know, "drop D" tuning is where the low E string is tuned to D, and it's a useful tuning for sure (used occasionally in rock, blues, and in some solo fingerstyle arrangements).
After some tips and a few minutes of tuning back and forth, he got a bit faster. This gave Paul a bit of belief and confidence that he could develop the skills to tune by ear.
The lesson there for him (and you) is to start small. If you have never tried tuning your guitar by ear, practising just tuning the Low E string to D back and forth and checking it with the tuner is a good place to start.
2 – I had the tip of my finger chopped off when I was four
I don't think I have written about this before, but I thought it might interest you. When I was about four, I had the tip of my ring finger chopped off.
Somehow it got stuck in the door frame as the door was shut. I barely remember it and my finger looks pretty normal, but if you look closely, you can see it is about 3-4 mm shorter than the ring finger of my other hand.
There is no soft padding under the skin, just bone. Luckily, as this is on my picking hand, it doesn't affect my playing much but…
As this finger has a "bony" tip, it means the tone can be different with this finger, when fingerpicking.
I often have to be aware of this and adjust my technique slightly to compensate.
Anyway, I thought that would be an interesting (and maybe gruesome) fact to share with you as it shows even seasoned players have little quirks which can get in the way, and…
That physical issues (even though mine is pretty minor) can be overcome.
I hope you found that useful, and it didn't put you off your lunch!
3 – My brand-new book, Essential Guitar Technique, is out now.
I'm really pleased to announce that my new eBook, Essential Guitar Technique, is now out. I spoke about it a few weeks ago and now, after a slight delay, it is here.
The book features 19 key lessons (all short and right to the point) on how to improve and fix your basic technique on guitar.
All of these lessons are ones I have taught students many times in my studio, and all of them have made a difference to their playing…
Especially when combined and used in tandem with each other.
The book is available as a freebie when you order the Guitar Domination Super eBook bundle (which features 6 other step-by-step books) and…
Until Friday, the bundle will be on sale.
The bundle has always been a package deal in the sense that you get a discount for buying it as a bundle, rather than if you were to order the books separately but…
On Friday, the price of the bundle will be going up, so if you want this book and the others, which will…
Help you improve your chord changes, barre chords, theory, strumming, etc., then check it out below.
Guitar Domination Super eBook Bundle
Have a great Monday!
Dan Thorpe
Guitar Domination
P.S. This post was originally taken from Dan Thorpe's private email list. To get blog posts like this sent to you which are full of great tips to make fingerpicking, strumming, and learning guitar more enjoyable (especially if you are over 40) join Dan's list. It's 100% free, HERE.