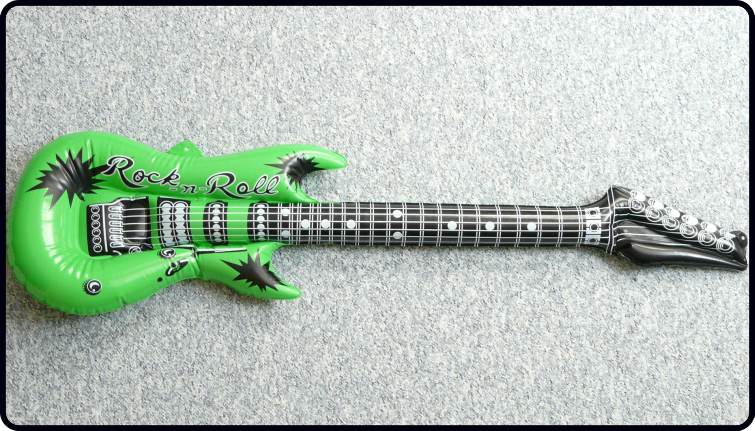 Welcome to a new Monday post with 3 random thoughts on all things guitar, music, and life, including inflatable air guitars, the Fab 4, and more.
On Saturday, my partner Sally and I went to a wedding.
It was crazy, so I thought I'd share some thoughts on that night…
Here we go…
#1 – The Fab 4
The band that played at the reception was fabulous.
Or should I say, "fab".
…Because they got the Beatles tribute band, The Fab 4, to play.
They were wonderful.
These guys had been doing this for decades.
You could tell.
They had it all – the skills, the stage presence, and even the mop tops.
The band went down a storm.
All four guys were super skilled on their instruments.
Not only were they tight, but they also nailed the sound.
I've seen way too many bands play this type of 200-people-venue where the drums are way too loud, the vocals can barely be heard, and one instrument overpowers everything…
Like when the rhythm guitar sounds way louder than the lead guitar!
These guys got the sound bang on though, and that's not easy to do.
Another thing I liked was that the band all had a strong connection with each other and that only comes from playing together a lot.
I love to see that because you can't really shortcut it.
These guys were all having fun jamming with each other.
…And that's just one of the benefits of playing music with others.
It's always a good idea to go jam with a friend if you can when you feel ready to.
#2 – Be prepared or you may end up hula hooping!
Here's a funny story from the night.
Before getting ready, I realised I hadn't worn my suit in a few years.
So, I put it on, and the suit still fit great.
…But the belt I dug out from somewhere was comical.
This belt was clearly from my chubbier days – back when I was about 50 pounds heavier than I am now.
The smallest notch I got on the belt was still miles bigger than what I needed.
It was huge and wearing this belt would have been like walking around with a hula hoop 'round my waist.
That was a close call.
I sorted it, but my oh my, it's always good to plan in advance.
And that's one thing I tell students.
Don't leave it till the last minute.
Think a little in advance about what you want to practise each day and think about what you want to achieve by the end of the week and month, etc.
A little planning goes a long way after all.
I should have reminded myself of this with the good ol' belt situation!
#3 – The power of music and inflatable air guitars
There were loads of fun musical moments from the night too.
For instance, as the band played "Yellow Submarine", the bridesmaids stormed the dancefloor with…
A big inflatable yellow submarine.
Then there were inflatable air guitars and photo booths, some crazy dancing, and lots of merry people having a good time.
…And when some of the younger guys found out I teach guitar, it got the conversation going.
Suddenly everyone gets chatting guitars and saying who they'd like to play like.
Some were saying Hendrix, Clapton, Slash, etc.
Then one guy, who was about 20, says in a deadpan voice, "I'd play like Billy Ray Cyrus"! That got a big laugh from everyone.
Anyway, it just goes to show there's nothing much more fun than music.
It gets everyone in the mood for a good time, brings people together, and creates lots of memories.
It's good to keep that in mind when you're playing.
…Because reminding yourself of the limitless power of music can be quite motivating, especially if you ever get a bit stuck.
Anyway, there you go.
Three random thoughts from a very musical wedding.
I hope you found those useful and have a great day of practice!
Dan Thorpe
Guitar Domination
P.S. On Wednesday, I will release the latest lesson from the Dan Thorpe Acoustic Academy for the month of June.
It's all about…
Playing blues lead guitar.
In the lesson, I'll show you some very simple but downright fun ways to play some stunning blues licks.
To get the lesson, the latest time to join is midnight on Wednesday. To find out more about the academy, head to this link below…
The Dan Thorpe Acoustic Academy
P.P.S. This post was originally taken from Dan Thorpe's private email list. To get blog posts like this sent to you which are full of great tips to make fingerpicking, strumming, and learning guitar more enjoyable (especially if you are over 40) join Dan's list. It's 100% free, HERE.