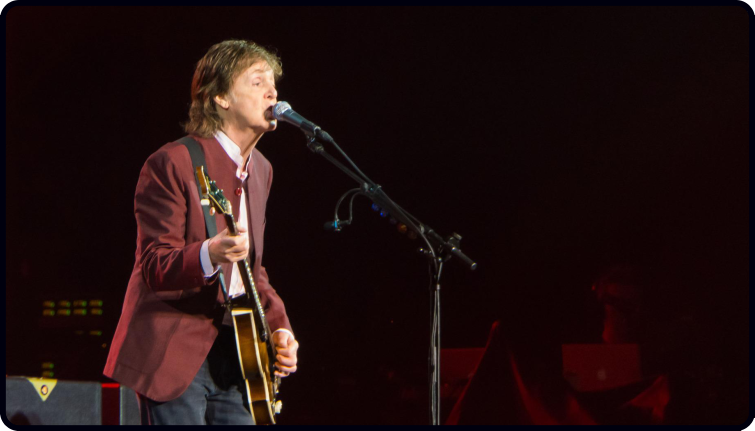 The other day, of course, was Sir Paul McCartney's 80th birthday.
So, here's a little story that showcases his talent for and dedication to music…
…And how we can all find inspiration from anywhere.
Back when his daughter Mary was born, Paul said he and his wife Linda stayed in the hospital for a week after.
…They stayed so long mainly because they loved the chips!
But all week in the hospital, he noticed a Picasso print on the wall.
It was of an old man playing guitar.
So, like any dedicated and curious musician, Paul wondered what chord the old man in the picture was playing (we all do it!)…
He noticed the chord used just two fingers.
So, Paul grabbed his guitar and started to play the chord he saw the old man play.
Then, inspired, he wrote a piece of music based on this idea, which only used two fingers throughout.
That's a cool little story and showcases Sir Paul's love for and dedication to music.
…And I hope you found it inspiring too.
If he isn't the best of all time in terms of songwriting, it's a hard shout to know who beats him.
I mean, there are other great songwriters too, of course.
Bob Dylan, Cat Stevens, Paul Simon, and many, many more.
This isn't so much to stir up a debate (although the greatest songwriter of all time debate is always interesting).
It's more of a fun little email to celebrate Sir Paul.
He is the man that went on to form Wings after all.
…And they are the band that Steve Coogan's character, Alan Partridge, once sarcastically said this about…
"Wings – the band The Beatles could have been". Ha-ha
Still, whatever your thoughts on Wings, I have to say "Live and Let Die" is such a great song!
Anyway, to one of the all-time greats. He's going strong and still sharing his love for music, which many of us are grateful for.
Dan Thorpe
Guitar Domination
P.S. He made me laugh when he called the Rolling Stones "a blues cover band" last year.  Hard not to laugh, and I love the Stones. To be fair, Paul said he loved the Stones too, but the blues were more their thing, which of course it was.
Speaking of the blues, I want to quickly mention I've recorded a blues lead guitar lesson recently.
I've never done a proper lesson on this until now. This lesson will be released in the Dan Thorpe Acoustic Academy tomorrow. To find out more about the academy, you can go to this link below…
The Dan Thorpe Acoustic Academy
P.P.S. This post was originally taken from Dan Thorpe's private email list. To get blog posts like this sent to you which are full of great tips to make fingerpicking, strumming, and learning guitar more enjoyable (especially if you are over 40) join Dan's list. It's 100% free, HERE.