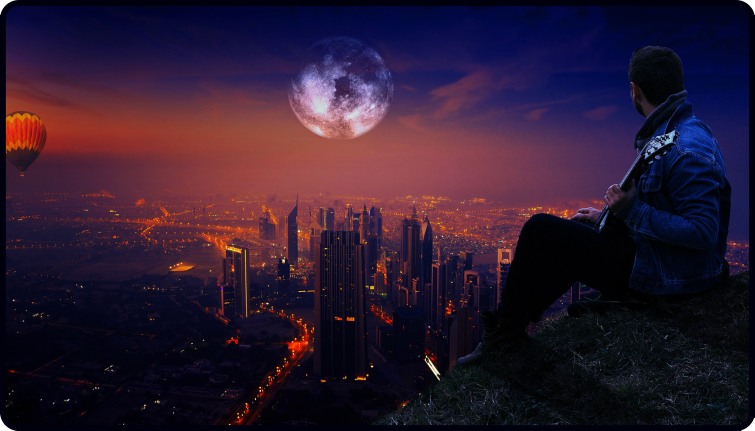 Welcome to a new Monday post with 3 random thoughts on all things guitar, music, and life, including thoughts on inspiration, my new surprising guitar, and more.  Here we go…
#1 – My new guitar surprised me
The other week I talked about the new guitar I got.
It was a pretty good bargain; I could tell as soon as I gave it a look over.
Well, finally, I got round to putting some fresh strings on it and giving it a blast.
…. And, well, I was surprised by what happened when I strummed it for the first time…
Why?
It felt and sounded even better than I thought it would.
It's a slimmer body than my other acoustics, and sometimes thinner bodies can sound a little thinner in tone. Not always, but a few I've tried have been like this.
Although my mate had a similar model back in the day, I couldn't remember the exact tone, but this sounds great.
It's much fuller than I remembered and has that ideal depth and clarity to it.
So, there you go, a few of you were asking about this guitar, so there's an update.
I'll film some future courses and stuff with it, but for now, check out a cheesy photo HERE if you want to see it.
#2 – Stopping to smell the roses
Over the last few weeks, I haven't stopped really.
First, I was creating the new lessons for the Dan Thorpe Acoustic Academy for May, then planning new lessons, writing my new course, filming it, editing it, creating the sales page, etc. (still with work to do on it all). Plus, creating a few bonuses, and then getting things prepped for later in the month (as I will be on holiday).
It's only when I stopped the other day, took some extra time off, and had a nice walk and BBQ with my girlfriend that I switched off for a bit.
Life is busy, and I love it, but sometimes we all have to switch off and relax.
It's the same with learning and improving guitar.
Back in the early days, I'd have periods where I'd play full on for weeks and then have 4-5 days where I would barely touch it.
That wasn't ideal and I think I used to burn myself out with it a little.
It's good to practise hard but also to know when to step back and take a day off too.
If things ever feel really tough, it can be wise to take the day off from practising and come back the next day fully charged.
…And when you do play, sit back here and there, and stop to smell the roses, so to speak.
For me, that's all about playing something fun, beautiful, and relaxing.
#3 – The importance of inspiration!
Last week, DTAA member, Nancy emailed about a local show she was at.
She talked about how she watched a blues singer in a cool little upstairs spot and what a great time she had.
What I liked most was when Nancy said this:
"Fun part about the show is that the whole time I was watching the guitarist play and was like oh that's the blues scale and pentatonic and …. sort of getting it lol … the whole show I was thinking of wanting to get home, grab my guitar."
I love these moments! I remember it well, and you know you've been bitten by the guitar playing bug when that happens.
It's always good to observe and study guitarists you enjoy watching,
This is good on T.V. or in videos, but it's even better live, when you get a view of the guitarist's hands without cameras cutting to other things.
I always loved doing it.
While it won't make you a wonderful player on its own, watching and studying your guitar heroes is one of those small things that adds up.
Plus, it's fun to geek out on guitar stuff!
Anyway, those are three of my random thoughts this week. Hope you enjoyed them.
By the way, if you're interested, at midnight tonight (PST) The Fingerstyle Collection course sale ends, so if you want in, now is a good time to get it.
You can find out more below…
The Fingerstyle Collection – learn 18 beautiful arrangements and discover the 3-step method
Have a great week ahead!
Dan Thorpe
Guitar Domination
P.S. This post was originally taken from Dan Thorpe's private email list. To get blog posts like this sent to you which are full of great tips to make fingerpicking, strumming, and learning guitar more enjoyable (especially if you are over 40) join Dan's list. It's 100% free, HERE.