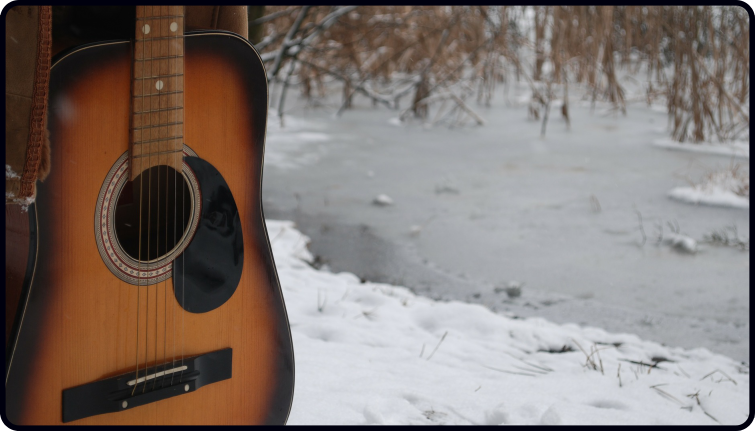 It's Monday again, so here are 3 more of my random thoughts on guitar, music, and life, including how to beat the January blues, how to improve your fretting hand, and more.
Enjoy…
#1 – The principles of learning are the same no matter what your age
Recently, Archie has been wanting to finish learning 'Happy Birthday' on his keyboard.
He did well.
Don't get me wrong, 'Happy Birthday' is no Beethoven's Fifth or 'Stairway to Heaven' in complexity.
It does, however, contain 20+ notes in the melody (most of which are the same notes of course).
One thing that stood out to me as a reminder is that…
Most people learn best when following tried and tested strategies.
This is what we did…
Broke it up into four phrases
Separated each phrase into two chunks
Slowed it down
Practised it over and over
Kept coming back to it in bursts
And importantly, paid attention to when his concentration was waning and stopped there
I wanted to keep it fun for him, which I think we managed. (At least I hope so, but a five-year-old will let you know right away if it's not fun!)
This was a very casual, non-serious bit of fun, but it was a good reminder that…
The principles of learning are generally pretty much the same for us all.
No matter what our age.
Keep the above in mind when learning and the process will nearly always become smoother and more enjoyable.
#2 – Beating the January blues
As if January couldn't be bleaker, we are in another lockdown here in the U.K.
There is light at the end of the tunnel, but for now, there will be a lot of quiet time.
Anyway, I always think of January as a great time to make progress on guitar and beat those January blues.
The other day in my Fingerstyle 101 Facebook group, I asked:
What goal would you like to achieve by the end of the month?
Having things you want to achieve by the end of a year is a good idea but…
Breaking these goals up into smaller goals…
Which you aim to achieve by the end of the month, is an even better next step.
This gives you focus and drive and something with a definite deadline.
Try it if you haven't already.
Set yourself a simple goal that is achievable and not too challenging.
See if you can complete it by the end of the month.
It's a good way of making progress, keeping away the January blues and keeping January fun.
#3 – Anything can work, but only if you do it right…
I was talking about this the other day with a student in the Dan Thorpe Acoustic Academy.
Cliff and I were talking about technique and improving the fretting hand.
He sent me an example of an exercise he liked.
It was a variation of the "Walking" exercise where you use all four fingers.
When done well, it's a good exercise.
The problem is most teachers give students exercises like this but…
Without any advice on how to play them.
This is a common mistake and one that can potentially be bad for your technique and joints.
When it comes to technical exercises especially, the key thing is not so much what you practise but…
How you practise it.
You must practice things like this with good technique, sound posture, minimal tension, a light touch, and real focus.
Do that and the exercise will help, rather than hinder your playing.
This is a point I like to hammer home with all students.
Keep that in mind – especially when practising technical exercises and scales.
To learn about not just what to practise but HOW to practise…
You can check out my membership below. It includes my flagship In Focus course, lots of "two-minute challenges", quizzes, classic songs to learn, and more.
Here is the link…
The Dan Thorpe Acoustic Academy
Have a great Monday!
Dan Thorpe
Guitar Domination
P.S. If you have my Fingerstyle Collection course, you may know I recently ran a competition. The competition was to send in a video of you playing a piece from the course. It ended New Year's Eve.
Well, the winners are Glynis, Xavier, and Peter who all did great and who all won a copy of one of my books delivered to them!
All three of them have been playing for vastly different amounts of time, and you can watch a super short video of them playing HERE.
You will no doubt agree how well they did, and hopefully, you will be inspired by them.
Thanks to everyone who entered!
I will repeat the competition at some point soon (so be sure to enter again). If there is enough interest, we can make it something we do every few months or so.
For now, get practising in preparation as prizes will be up for grabs again.
To log in to the course, the link is below…
P.P.S. This post was originally taken from Dan Thorpe's private email list. To get blog posts like this sent to you which are full of great tips to make fingerpicking, strumming, and learning guitar more enjoyable (especially if you are over 40) join Dan's list. It's 100% free, HERE.