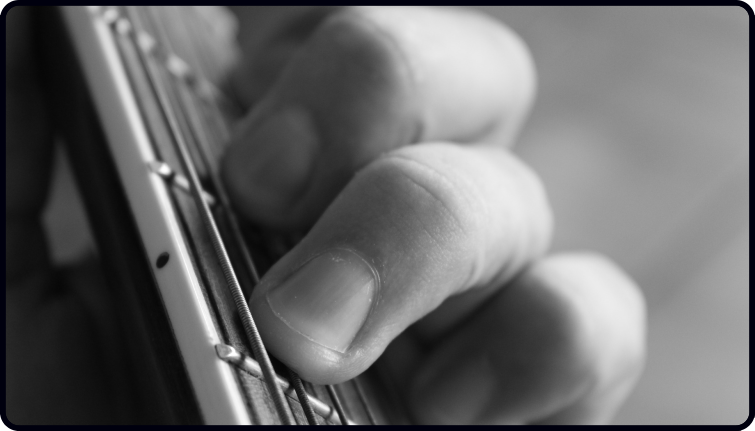 In last week's 10-second tip, I shared a little nugget of knowledge about learning the notes on the fretboard in pairs.
Here's another very simple fretboard tip for you.
…And it's all about looking for patterns all over the fretboard.
Specifically, looking for pairs of notes
One very simple pattern is this…
Every time you see a B note, just remember this…
The C note is right next to it, one fret higher.
This is simple knowledge, but it can be powerful because a lot of guitarists tend to learn notes in isolation.
…But if you know where a B note is, you know that the C note is only one fret higher up the fretboard.
Likewise, if you know where the C note is, you should know the B note is always one fret lower.
You can tie them together as a pair of notes like this.
You can take this further later with other notes too such as E and F and others.
In a nutshell, this really means that if you learn where a note is somewhere on the fretboard, you'll quickly know what the notes are on either side of it.
…And this can save you time, of course, when learning the fretboard.
I hope you found that useful.
For more help with fretboard knowledge, there's a 7-day mini course on this that you might want to check out. It's inside my membership programme and you can find out more about it below:
Find out more about the Dan Thorpe Acoustic Academy
Plus, on the 1st of August, there will be some exciting brand-new lessons coming to the membership.
Dan Thorpe
Guitar Domination
P.S. Those that join get one of my most important books ever posted to your door as a free gift.
P.P.S. This post was originally taken from Dan Thorpe's private email list. To get blog posts like this sent to you which are full of great tips to make fingerpicking, strumming, and learning guitar more enjoyable (especially if you are over 40) join Dan's list. It's 100% free, HERE.