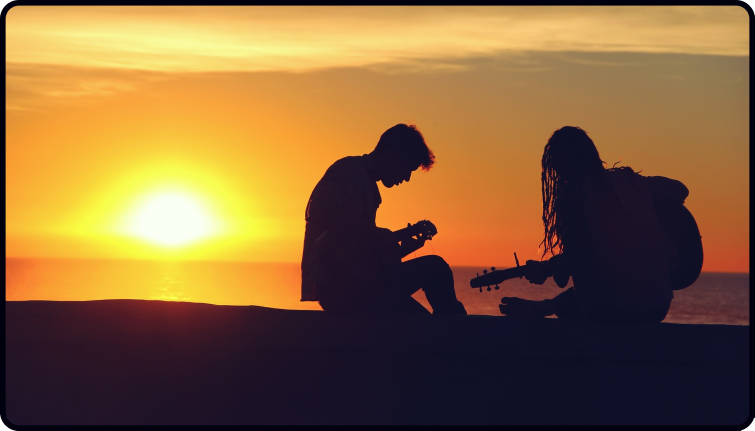 Here is another 'beginning of the week' post with 3 of my thoughts on guitar, music, and life, including tips for strumming guitar, thoughts on how music can bring people together, and more.
I hope you enjoy…
#1 – Politics can divide, but music can bring us together
It has been a heavy week politically.
Obviously, in the U.S. there was the election.
Closer to me in England, we are in another lockdown for a month.
Both have divided people massively.
Some love Trump, others love Biden, and in the UK, some want the government to go harder, but others think they have gone too far already.
No matter which side of the fence you fall on with all this, people's political beliefs can cause rage, anger, and resentment, even among families and friends.
The thing is though, while politics can divide, music is a wonderful way for us to re-engage and connect with each other, as well as a great way to forget all the frustrations out there.
Last week, two of my students were having a "paired" lesson, and even though they get on well, these guys were both opposed in terms of the lockdown here and to a lesser degree, in terms of their opinions on the U.S. election.
There wasn't any big argument or anything (they were there to learn guitar after all), but as soon as they started jamming together that was it – any little tension that was there, just disappeared from the room.
The joy and love for music came out, and the frustrations of the world were washed away.
Same for me too. When things feel rubbish, I get the guitar and switch off from the B.S.
I hope you do this too, no matter what is happening in the world.
You don't have to be a fancy player to do this, as even the simplest few notes can be enough to make the moment feel great.
Music is a great healer, after all.
#2 – A nice little strumming tip
Recently, I have taught a few good lessons on strumming and one thing that kept cropping up is that…
Students tend to strum all the strings all the time.
Doing so can sound a bit flat, whereas strumming different strings at different points can really bring things to life and add a lot of depth to your strumming.
An easy way to do this is just to hit the root note of the chord (the lowest bass string in the chord) for the first strum and…
Then strum as normal for the rest of the bar.
If you struggle with this concept and find chords to be a pain, put a capo on a fret where you can play a few chords comfortably.
Then pick a strum pattern you know and experiment with this idea slowly and steadily.
It is good fun.
I will be doing a series of video lessons on strumming soon as part of my membership with tips on strumming guitar, but hopefully, the above idea has given you a useful little tip you can try today.
#3 – Sometimes you just have to bite the bullet
Last week I got an email from Dina, who is an experienced guitarist.
She told me she has loads of materials and products sitting on her hard drive she never uses and was…
Curious about whether or not she should get my Fingerstyle 101 book, even apologising for asking multiple questions.
Although I try to help, normally, I don't do many back-and-forth emails about products, especially ones this inexpensive. (If someone wants it, great, if not, no problem).
I told her, even if she spends just 30 minutes reading it and applying one or two things from the book, it would probably help her and be worth it.
This is what she replied a few days later:
"Glad to have this e-book, Dan!  I have several bad habits to get rid of, which is going to take some time. I'm impressed with the way you have organized the material".
It is a beginner book written but I was pleased that even though she was a little sceptical at first, she went for it and as an experienced guitarist…
She found it useful right away.
It just goes to show, sometimes it is worth biting the bullet and just going for it.
If you want to give it a go, the link is below…
Fingerstyle 101 –break bad habits and have more fingerpicking fun on the guitar
A bonus of getting the book is that you get to join what I think is going to be a special community.
It is the free Facebook Fingerstyle 101 group. It has 200+ members already, and the posts, comments, and interaction between members so far have been great to see.
(By the way, if you have bought the book from Amazon and want to join the group, let me know).
Have a great Tuesday!
Dan Thorpe
Guitar Domination
P.S. This post was originally taken from Dan Thorpe's private email list. To get blog posts like this sent to you which are full of great tips to make fingerpicking, strumming, and learning guitar more enjoyable (especially if you are over 40) join Dan's list. It's 100% free, HERE.